Is your human a toy gadget freak? My mom is. She loves office stuff and kitchen gadgets. She says they are things to help her be more productive but I think they are toys.
Before she retired, she got lots more office stuff than kitchen gadgets. Colored pens and paper, various kinds of organizers, fasteners, labels and label makers, you name it, she had it.
I say ha! If they make her so productive, why can't she keep up with my blog and social media schedule?
When she retired and we moved up here, she didn't need a lot of new office stuff, and since she cooks a lot more now, kitchen gadgets have come to the forefront again. They help her do things quicker and easier, she says. Now, since I don't do the cooking, I'm not sure about that, but once again, I say a lot of them look like toys to me.
Case in point, where do you think the latest kitchen gadget came from? The pet store!
When mom came home with this thing, she told me how it happened. She saw this cute little orange thing with paws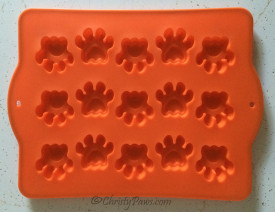 in it and picked it up to see what it was. It turned out to be a silicone baking sheet for dog treats so she started to put it back. She was shopping at the pet store with aunt Kelly and aunt Kelly said, "But it's paws, like Christy Paws." Mom said, "Oh, you're right! I'm sure I can do something with this." Now I ask you, would you call that something to make your life easier or a toy?
The first thing she did with it, is make paw shaped ice cubes. Not much use to me but she likes them. She says she'll probably make some dog treats in it for her pet sitting clients. Can't wait to see what other ideas she comes up with! Hopefully, some of them will benefit me.
What kinds of toys do your humans like?
Have a pawsatively purrfect day!
Christy Paws