Here we are on the fifth morning of daylight savings time. It's 6 o'clock in the morning and still pitch black outside. Mom is a morning person so she's already been up for more than an hour. She's always the first one up, waking us up from our cozy, warm sleep. Once she's up though, no matter what time it is, light or dark, we all sit and stare at her until she gives us breakfast. Now I know some of you get waited on first thing, but our mom has to have her coffee first. She's no good without it. I hear many humans are like that.
Today, I wanted to tell you about a couple of things that happened last week. I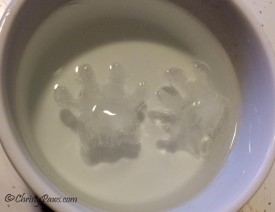 told you about the new gadget that mom got last week with the paws and told you the first thing she did was make ice cubes in it. I mentioned that the ice cubes weren't of any use to me but my sweet friend Nellie (how could she possibly be The Cat from Hell?) commented that her mom puts ice cubes in her water. So, of course, mom had to try this. I have to admit, we did have fun batting them around. I have a feeling we'll see more of this when the weather gets warmer.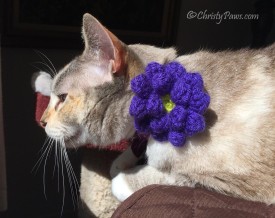 The most exciting thing that happened last week is that I got to add to my purple collection! As some of you know, Miss Emily of Kitty Cat Chronicles, makes adorable crocheted flowers and bowties. Mom had been wanting to order a flower for my collar so, when Miss Emily offered to donate the proceeds from all orders through February 14th to Catwork in support of the "Real-Life FIV" project, mom decided it was the purrfect win-win time to order. FIV is a topic near and dear to our hearts.
My flower came last week and it is magnificent! It is such a royal color of purple (it matches my mom's iPhone cover) and I just love it. It makes me feel very special to wear it. And it makes us feel good to know we helped cats with FIV in a small way.
Have a magnificent day!
Christy Paws