OMC! Mom has not stopped babbling about the BlogPaws Nashville conference since she got home. I've been trying to sort it all out so I can tell you about it, but it hasn't been easy. She is just all over the place. Fortunately, Flat Me told you about some of the events on Thursday and Friday, so I only have a little more to tell you and lots of photos to show you.
Mom didn't get home until late afternoon yesterday and she was exhausted so we just visited. This morning, we helped her unpack, finally, so we could see all the goodies she brought home. There are treats and toys and so much more. We sure had fun pulling all the toys out of her suitcases.
I was especially excited to see the special little packages a few of my blogging pals brought me. Thank you Lola the Rescued Cat, Island Cats, The Cat on my Head, and Sometimes Cats Herd You.
Mom talked to most of the brands there, but a lot of them only had products for dogs. We cats had a special place called the Cat Style Lounge where the cat-only products were displayed. Here are some photos from it.
Mom handed out lots of business cards and got lots in return. She's gotten some of the contacts entered into her Business Card Reader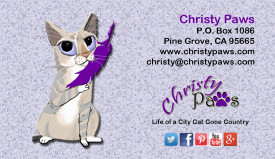 app but still has a lot to do.
Mom loved the educational sessions and meeting the brands to learn about their products, but I think what she enjoyed most was meeting face-to-face the bloggers (some animal, some human) we have been talking to online for the past few months. She also made some new friends. Here's just a few photos of attendees.
Mom says I should say a big thank you to BlogPaws*, Mars Pet Care and all the other brands who made the conference possible. Next year, BlogPaws will be in Phoenix, AZ. Mom says it is a long drive, 11 to 12 hours, but I will probably get to go! Hope to see a lot of these friends there.
Wishing you a peaceful evening!
Christy Paws
* BlogPaws is an online community for pet bloggers and they have an annual conference. This year's conference was this past weekend in Nashville.
Save
Save