Good afternoon friends and furiends! I hope you had a wonderful day yesterday with loved ones, whether or not you were celebrating Thanksgiving!
Echo, Ocean and I had a pretty quiet day since mom was gone most of the day. She gave us a great breakfast of our raw chicken and rabbit then headed out early for Minden, NV with her friend Kelly. They went to Kelly's uncle's house, about two hours away, for Thanksgiving dinner.
If you saw my post on Instagram, you know we had snow on Wednesday, so it was uncertain if they would actually be able to go. To get to Minden from our house you have to drive over the Kit Carson pass at 8600 feet. If there was snow on Thursday, they wouldn't be able to go, or even want to for that matter. By Wednesday afternoon, no snow was predicted for Thanksgiving, but they did pack things in the car, like water, snacks and blankets, just in case.
It turned out to be clear most of the way and even sunny part of the time. The roads were plowed but still snowy and icy so they had to put chains on about 20 miles from home. That slowed down the drive a lot but they arrived safely and I'm thankful for that.
Mom took some photos on the drive over.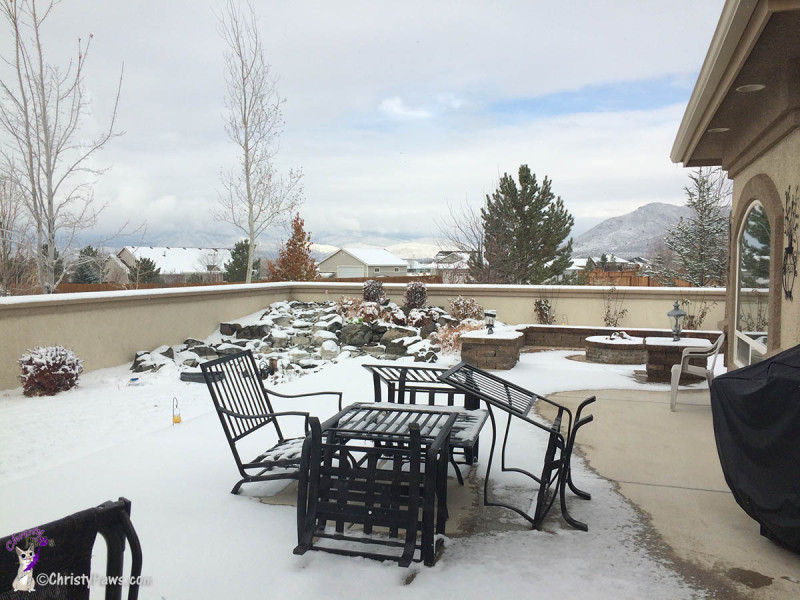 Mom said they had a fabulous meal with way too much food. They didn't stay late because Kelly didn't want to be driving back on icy roads in the dark so they got home around 5 in the evening. Since they didn't have to put the chains on coming back, the drive took only the usual time. Mom did bring us some leftover turkey but we haven't gotten any of it yet. Instead of leftover turkey, she gave us our raw food dinner and then we snuggled while we watched TV. Actually, I think we all slept!
Since we took the day off yesterday, I thought I would take a little time today to talk about some of the things I am thankful for in my life. Yes, you've probably heard it before but I think it is so important to tell the people you love how much they mean to you.
I am most grateful for my mom and that she fostered me when I was just a tiny kitten with a broken leg and tail. Without a foster, I surely would not be here today. I am grateful for my warm, cozy home with such great noms. Many kitties don't have even these basic things. I am grateful to have a mom who is always learning more about what is best for us. Most of the time, as long as they leave me alone, I'm glad to have my brofurs, Echo and Ocean around. I'm glad they also have a safe, loving home. I am so happy to be a blogging kitty and to have met so many wonderful friends. Your visits and comments make my day. I am thankful every day for you!
Thank you for being my friend! Have a super weekend!
Christy Paws