Once a quarter, animal lovers everywhere come together to support Blog the Change for Animals. Bloggers write about their favorite animal-related cause and share them on social media where everyone can read, comment and share them more. We want to be the change for animals!
Not just for bloggers… Be, Blog and Read the Change for Animals!
I have three main things that I am passionate about when it comes to animal welfare: Spay/Neuter; Feral Cats; and Adopt, Don't Shop. I have Blogged for the Change twice since I started blogging a little over a year ago. In October 2015, I blogged about Spay/Neuter. In July 2015, I was excited to announce my new relationship with A-Pal Humane Society when I became a Cat with a Cause. I didn't write a specific post this quarter so I thought I would share some of my favorites with you from other bloggers.
Feral Cats
This year, the most popular theme seems to be helping feral cats. Feral or community cats are the result of irresponsible ownership. They are in our communities at no fault of their own and deserve our help.
Saving Boston's Forgotten Felines #BtC4A
from Melissa's Mochas, Mysteries and Meows
The winter of 2014-2015 is one Bostonians won't soon forget. 94.4 inches of snow fell from Jan. 24- Feb. 22, with a season total of over 110 inches making for the snowiest winter ever recorded. The cold was just as unrelenting: the temperature didn't reach 40 degrees for a month and a half straight.
Records weren't merely broken, they were obliterated.
While stats like that are tough for humans to take, imagine being a cold, hungry and homeless cat. Continue reading…

Give Life to Free Roaming Cats #BtC4A
from Savannah's Paw Tracks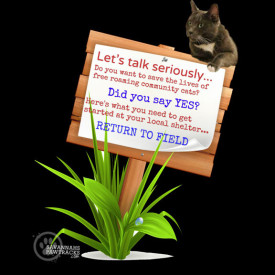 I am joining a movement which is near and dear to my heart. In case you are new to my blog, I am an adult shelter rescue cat…working hard to make a difference for all those similar to me; who do not have the voice I now have thanks to social media.
My post this quarter is very important to any and all who want to see the live release rates RISE from their local public kill shelters. Come on, read more, learn, ponder the information and then hopefully, you will JOIN me and Mom L in helping all free roaming community cats live their lives beyond being trapped and left at a kill shelter. Continue reading…
10 Ways to Help Stray Cats this Winter
from Pawsome Cats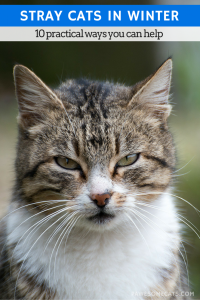 Whilst the temperatures don't get too cold in Australia, for many of our cat-loving readers winter is a time when your cat becomes a heat-seeking missile targeted at snuggling up on your lap. But spare a thought for those less fortunate felines who are feral or stray, and lack creature comforts during the harsh winter weather.
Whatever your opinion on how to deal with stray cats, it remains true that unnecessary suffering and hardship should be avoided. For the neighbourhood strays frost, wind, rain, and snow mean an extra challenge to an already tough existence. Continue reading…
Think Outside the Box
from Radom Felines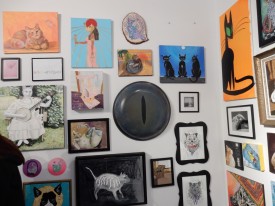 Last Friday night mom went to a fundraiser for the rescue that we help by fostering kittens. The main goal of the rescue as always been TNR – Trap Neuter Return.
Well, the rescue was approached by a local artist about doing an area specific fund raiser. She would get artists in the area (and out of the area as it turns out) to donate cat art work. The funds raised would be used for targeted TNR in the area around the art studio. The woman who headed up the fundraiser said she learned about feral cats and TNR when she moved to the area and discovered "wild cats" living in her backyard. Continue reading…
Adopt, Don't Shop
In my humble kitty opinion. puppy and kitten mills are at the heart of our pet overpopulation issue. All these inferior quality pets which have been raised under deplorable conditions go to pet stores and end up not being spayed or neutered — the real cause of our pet overpopulation problems.
Although this post is about puppies, it applies to kitties too.
Puppy Mill Awareness #BtC4A
from Fur Everywhere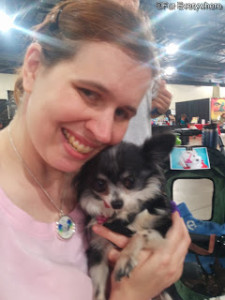 For today's Blog the Change, I am beyond thrilled to introduce you to Lee, the One and Only, and his dad, Gary! I met Lee and Gary last year at Denver Pet Expo and found their story very inspiring. Lee is a very sweet boy and allowed me to cuddle him for quite a while. His dad told us about how Lee is a puppy mill survivor. When I got home, I checked out their Facebook page and discovered just how much Lee and Gary do to raise awareness about puppy mills.
I interviewed Lee and Gary this week to share their amazing story and cause with all of you. Continue reading…
Shelter Spotlight
Some bloggers spotlight the shelter or rescue they support. If only all of them could be like Tabby's Place in Ringoes, NJ.
Tabby's Place – #BtC4A
from Lola, the Rescued Cat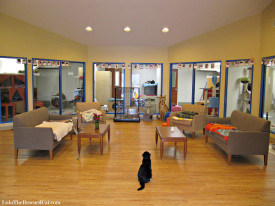 I first became aware of Tabby's Place – A Cat Sanctuary in April of 2011 when a group of New York cat loving ladies took a two hour road trip out to Ringoes, NJ to visit the sanctuary.
From the moment I walked into the lobby I was impressed with, well, everything! (And it quickly became one of my favorite shelters.)
Angela Townsend, Development Director, was gracious enough to give us a full tour that day, and has been just as welcoming to me every time I have visited since.  She also agreed to be interviewed for this post. (Thank you, Angela!)
Tabby's Place was founded in 2003 by Jonathan Rosenberg in honor of his beloved cat, Tabby, who succumbed to cancer in 1999. Tabby's Place, which sits on eight acres of land in Ringoes, NJ, is a cage free sanctuary that is a refuge for cats in hopeless situations. Continue reading…
Our Wish
In September, a fellow blogger had the idea of making a video that shared what people hope for in terms of animal welfare. Here's how it happened.
Blog the Change for Animals – Getting the word out and letting it spread
from Tales from the Foster Kittens
Almost fifty people joined in wanting to help and twenty people from all over the US and as far away as New Zealand sent in content. They set in text, audio recordings, photos and videos. The people featured in the video are bloggers, shelter volunteers, foster moms, shelter staff, animal transport network workers, police officers, musicians, artists and even a radio personality in Las Vegas. Read more…
I hope you enjoyed these posts as much as I did. You can be the change for animals by reading, commenting and sharing!
Thank you!
Christy Paws