If you read my post, Hard Decisions, you know that mom is trying to find new homes for some of my adopted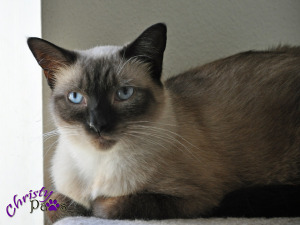 brothers and sisters. MeoowzResQ had their regular Sunday adoption event at the Petco in Anaheim yesterday so mom took Fontana to see if someone might see her and fall in love. Fontana is a beautiful Siamese mix with gorgeous blue eyes — almost as striking as mine! She is a sweet girl who loves to cuddle. You can read more about her here. She was really scared at first but mom held her for a while and she realized it wasn't so bad there. Unfortunately, it was a really slow day for adoptions at that Petco. Only one person came in seriously looking to adopt and no kitties went to new homes. So, Fontana is back home for now. After Wednesday, you'll be able to meet her at the Petco in Orange during regular store hours. I hope she finds a new, loving home very soon!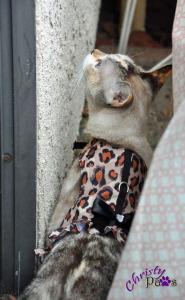 While she was at Petco, mom decided to look for a Halloween costume for me for Sammy's Funniest Halloween Costume Contest over at One Spoiled Cat. There were only a few costumes left and nothing she really liked (sigh of relief). If she makes it to Fashion Island to look for a carrier for me, she said she will look again there. If not, hello Photoshop!
What she didn't tell me when she got home yesterday, is that what she did buy me was a new harness! Oh, brother. I was just starting to get used to the one I had and she got this thing that covers my back and has a frilly thing at the bottom. Oh, and some blingy thing. Well, you know what? I surprised even myself. When she put it on, I only slinked around for a minute or two then started walking normally. She took me out to the patio and I actually started exploring! Baby steps, right?
Christy Paws