I've heard the expression, give them an inch and they'll take a mile. Well, that really applies to mom for the past few days. I gave her the weekend off from the blog because she had company visiting and mom really took advantage of me. She has taken almost a week off! Totally unacceptable!
Anyway, as I was saying, her good friend, Sheila, came to visit for the weekend. She was in Placerville with her horse, Ruger, for a clinic. Since it is so close, she wanted to come ride the beautiful trails here with mom and Kelly on her way home to Santa Maria. She arrived late Friday evening and they all got her horse settled in at Kelly's.
Sheila stayed at our house. But, guess what she brought with her. Her big, hairy, slobbery dog, as my friend, Nellie, might say. Now, as you may know, I had a horrible experience with a woofie and I am very afraid of them now. I stayed up high all night Friday night even though he was sleeping in the bedroom with Sheila. I didn't even want to risk getting down to sleep with mom.
The next morning, I kept my distance, but Riley was a very respectful woofie. He never barked at us or even came very close to us for that matter, at least not intentionally. Sheila said he had experience with a cat who taught him that respect! He was so calm and mellow that we quickly became curious about him. We all still kept our distance but no one ran and hid.
The hairy part is obvious, but here is the slobbery part. Mom let him play with our toys! Can you imagine? Who cares if we don't play with the ones she gave him. And he DID get them all slobbery! I sure hope the mom plans to wash them. So far, I just see them back in our toy basket. They are just laying there, their fur all stiff from the slobber.
He did seem to enjoy them much more than we do. He would gather several in his mouth at a time and carry them around or would ask one of the humans to play with him. He collected them in "his" area where his water bowl was. You can see a few in the photo above.
He even provided us with some entertainment. The silly woofie thought flat me was a real kitty!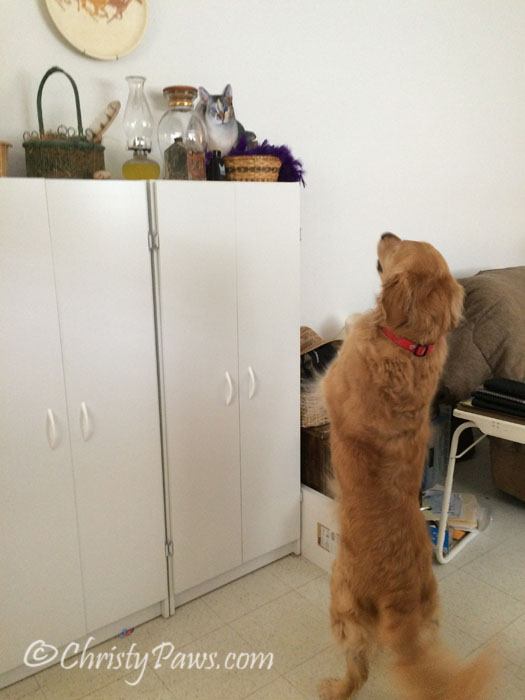 Mom says this was a wonderful, positive dog experience for me — a first step towards BlogPaws 2016. OK. Whatever, mom.
Wishing you only positive experiences!
Christy Paws