Here I am with my very first kitty from A-Pal Humane Society in Jackson, CA. I'm excited to be an Advo-Cat for this terrific rescue organization and hope to make a difference in helping place their available kitties.
Adopt Spookie
Meet Spookie who is anything but — just look at that face!
Here's what A-Pal has to say about him.
This handsome 8-year-old boy wants nothing more than to be petted. He is a real lover boy who would make a great lap cat. Spookie has had some bladder issues and needs to be fed Hills CD diet, but other than that he is healthy and happy and ready to go to his new forever home. Stop by the Feed Barn in Jackson if you would like to meet him.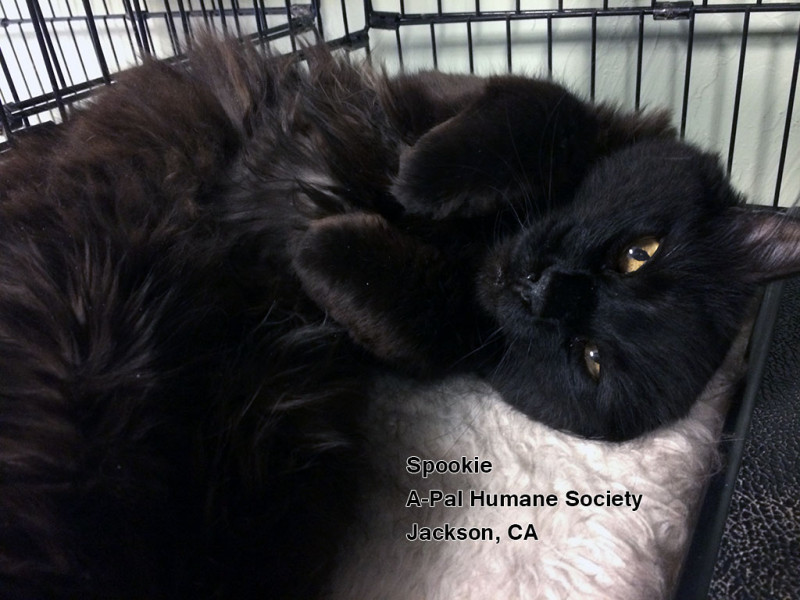 Adopt your very own lucky black cat! Contact A-Pal for more information about this handsome, sweet boy.

7 Reasons to Adopt an Adult Cat
Adult cats require less attention and supervision than kittens. They are more likely to choose to curl up in a sunny spot in front of a window to sleep rather than climbing up the back of your couch, chewing electrical cords, knocking over knickknacks and running all over the house.
Most adult cats are already litter box trained.
Most know to use scratching posts instead of your furniture.
Adult cats are generally a better choice for households with small children. Kittens can play rough and cause harm to children by biting or scratching if they are scared. Children sometimes handle kittens too roughly and can cause harm to the kitten. Adult cats are more mellow, and often more patient with young children.
Adult cats usually sleep through the night, while a kitten will often run around all night climbing on anything low enough to jump on, including you.
Adults usually make better companions for older cats already in your household. Kittens can be too rambunctious and annoying.
If you only want one cat in your household, an adult is the best choice. Kittens do better when they have another kitten to play with and keep them company when you are away.
Have a great day!
Christy Paws