Mom has been in a quandary over cat treats for a while now. Store bought treats are very expensive (pound for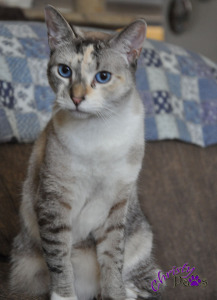 pound) and have so many chemicals and other bad things in them. They are full of carbohydrates because that is what holds them together. As an obligate carnivore (that means we only eat meat), my body doesn't handle carbohydrates well.
So what about homemade cat treats? At least that way, she knows exactly what's in them. Periodically, she'll do a search for recipes looking for the perfect one, and when she sees one on Pinterest, she adds it to her treat recipe board. But even most homemade treats have lots of carbohydrates in them.
Mom feeds us only raw food, or an occasional meal of grain-free canned food if she runs out of raw. We don't get dry food at all. Besides the fact that dry food contains so many bad things, all pet food recalls have been for dry food or treats. Think about that one.
Here's the dilemma. What is a treat? Should it be good for you or just good? Human treats are usually things that are not that good for them. Even if they are on a "healthy" diet, they treat themselves with sweets or other things they probably shouldn't be eating. Does that apply to us cats? Is there such a thing as a healthy treat? Or, are treats something that are not that good for us but that we like a lot?
So, what's a mom to do? Treat or no treat? Mom has decided to try some freeze dried treats that are nothing other than the meat itself, freeze dried. No preservatives and no additives. She has ordered some for us and we'll let you know how we like them. Frankly, I don't think they sound all that appetizing.
What do you get for treats?
Christy Paws