For this week's Caturday Art, mom had an idea for a Valentine's Day card and wanted to learn how to use the custom shape tool in Photoshop to do it. Photoshop Elements, which is on her sick computer and no longer works, has a cut out tool that makes what she wanted to do pretty easy. It seems, though, that Adobe thinks if you use regular Photoshop, doing the same job needs to be more complicated.
So, she hopped on Mr. Google to find a tutorial. Of course, like most things, once you know how to do it, it is quite easy.
While she was tinkering with her idea for the Valentine's Day card, she wanted to see what she could do with the shape and came up with this.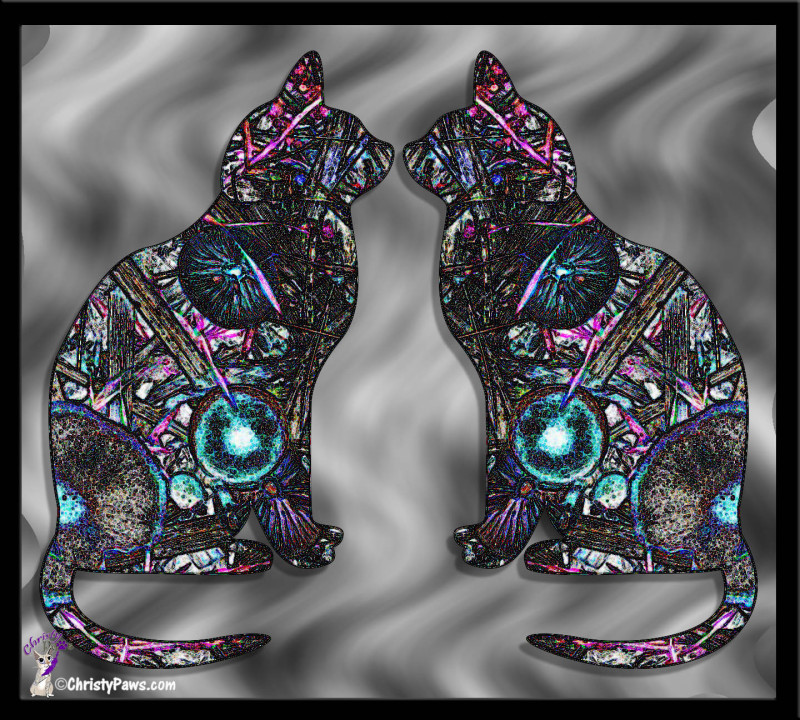 You can skip this paragraph if you aren't interested in the how stuff. The cat shape was created from a photograph using a clipping mask. The Fluorescent Chalk action (she thinks) was applied to the cat shape. The shape layer was duplicated and flipped. The background was created using the Texture action, Marbled Glass.
And guess what mom said I could do! The first person to comment below and guess correctly what the original photo is of will get a special surprise from me in the mail. I can't wait to see who wins. I'll announce the winner in my post on Tuesday.
Happy Valentine's Day!
Oh, yeah, mom's real art project was our Valentine's Day card. The cats were created from a piZap background.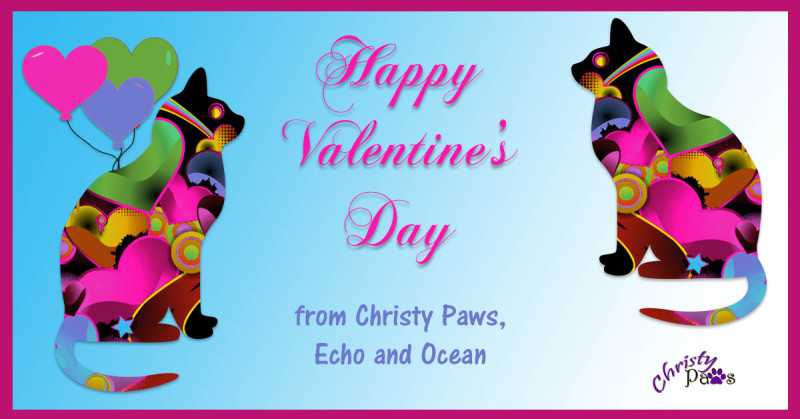 The origin of Valentine's Day is a little muddy but it appears it was first associated with what you humans call romantic love in the Middle Ages. Mom says that's a long time ago. I don't know about romantic love, but I do know I love all of my friends and followers and wish you a day full of happiness, love and friendship.
Christy Paws
We are joining the Caturday Art Blog Hop hosted by our friends Athena and Marie. Click on the badge to see more great art or to join in the hop.