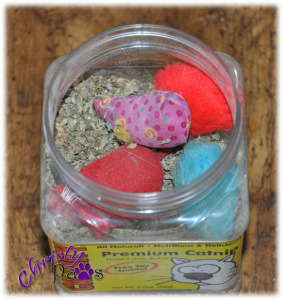 We love our nip and I know we're not alone there. We love to smell it, roll in it and eat it.
Mom stores some of our mousies and other small toys in the catnip jar. When she takes them out to give them to us, oh boy, do they smell good! They soak up all those odors and are just wonderful.
After we play with our own for a while, we have to check out each other's toys. If someone is silly enough to toss their toy into my area, I may just claim it too.
I'm looking forward to the spring when my gardener (that would be mom, of course) plants and tends my catnip and silvervine farm. I will oversee the cultivation of my plantation from the comfort of … Continue reading →