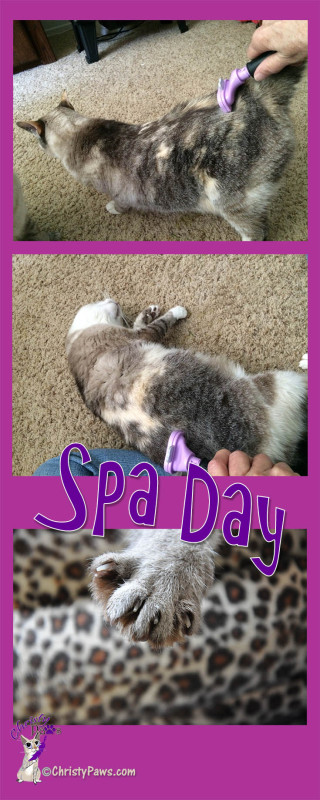 Today is spa day. It's our special grooming day and mom tries to schedule one every week. We all get a thorough brushing and our nails trimmed. Thank catness baths aren't included! That reminds me, mom read recently that baths are not necessarily a bad thing for cats. I hope she's not thinking that means me. I'm an indoor cat and do a fine job of bathing myself. Sometimes I wish she wouldn't do so much research.
I really enjoy the brushing half of our grooming routine. I love being brushed but I'd just as soon mom leave the nails alone. I just get them nice and sharp and she chops them off. I sit there, all indignant like, while she cuts. She says it makes us both happy in the long run. I don't feel so much of a need to scratch on things and I don't poke or scratch mom accidentally. None of us really mind the trims since mom has been doing them since we were little, but still, a girl likes her long nails.
Now that shedding season is here (yuck for all of us) mom tries to brush us every couple of days. She says when the first hairball gets upchucked, it is her reminder to start brushing more often. Since we get brushed on a pretty regular basis, we hardly ever get hairballs, but when the hair starts coming out by the handfuls, it's time for more action on her part. Even though hairballs are a natural thing, preventing them is more pleasant for all concerned.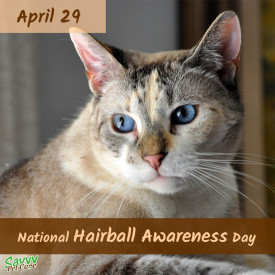 For the longest time, longer than I can remember, mom has used a FURminator on us. It gets through the top coat and pulls out all the loose, dead undercoat. It feels so good getting all that hair out and I don't have to lick it out with my tongue.
Next Friday is National Hairball Awareness Day. In support of the day, mom is giving away a FURminator on her Savvy Pet Care blog. Just click the link to enter to win. I know you'll love it as much as I love mine.
Today is also selfie day over at The Cat on My Head and we are joining in. My photo in the National Hairball Awareness Day graphic will have to do as my selfie. Click on the link or badge to see more.