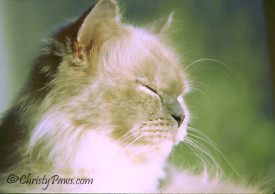 Mom has had many kitties in her lifetime. Two others, besides me, were very special to her. Hollywood was one of those special kitties. If you missed part one, you can read how she came to live with mom and how I feel about mom having had another soul kitty by clicking here.
Life was pretty normal for Hollywood for the first couple of years of her life. Then mom and her boyfriend got involved with exotic animals. That, in itself, is a very long story. Suffice it to say, it made for some very interesting experiences for a petite, Himalayan kitty.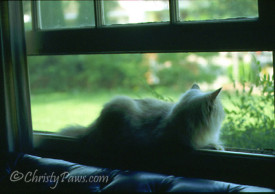 Mom and her boyfriend got involved with exotic animals purely by accident as the result of a news story on TV. Once involved with the people who had the exotics, they founded a nonprofit that utilized them for environmental education. Occasionally, lion or tiger cubs that were still being bottle fed were in the house. Remember how I told you Hollywood was so brave? Even though the lion and tiger cubs were already more than twice her size, they did not scare her! If they started annoying her, she would get on the coffee table or other area above them and bat them on the head. I bet mom wishes she had pictures of that!
Mom got more and more involved with the nonprofit. She and the boyfriend became USDA (United Stated Department of Agriculture) licensed exhibitors. When Hollywood was about three, they received a grant and they moved to Nevada where the exotics lived. They acquired two Canadian lynx to have easier access to educational animals. The lynx were only a couple of months old when they arrived and lived in the house for a few weeks until their outdoor enclosure was built. Hollywood never played with them but she had no fear of them either! She would sit on the couch watching them bounce off the walls playing. If they came too close to her, she gave them a good paw whap and they respected that.
Not quite a year later, mom and the boyfriend got a gray wolf from a local breeder. He was still being bottle fed when they got him so Hollywood grew up with him too. Maybe it's because she started out older than these critters that she wasn't afraid. Whatever the reason, she was one brave kitty. Just look at her with this big woofie. Woofies still terrify me.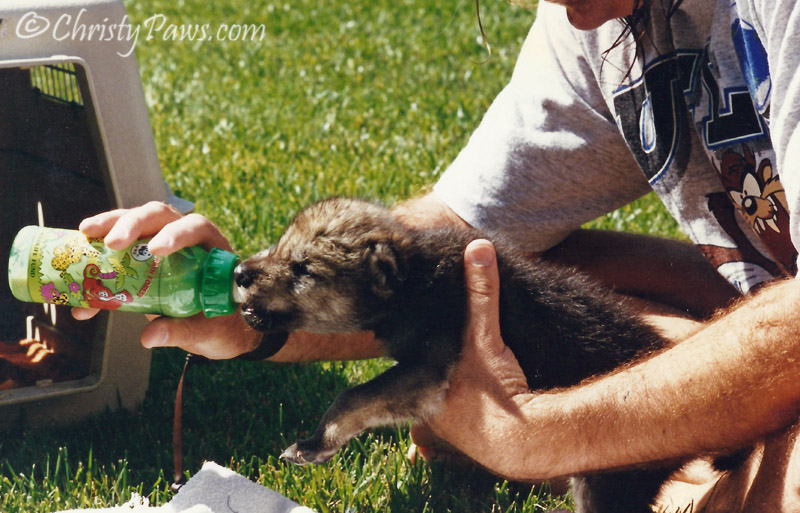 The lynx and wolf learned to walk on leashes (oh, why oh, why can't I?) and were socialized with lots of people. Eventually, they started visiting places like schools to help teach kids about endangered species and loss of habitat. They made many trips to California where folks were more interested in the environment than folks in Nevada.
Of course, during all this traveling back and forth between California and Nevada, Hollywood was mom's constant companion. But I think that's a story for next week. I told you Hollywood had some adventures. Makes my life seem pretty boring, doesn't it?
Wishing you a life filled with adventure.
Christy Paws
P.S.  Mom knows there are lots of people out there who do not agree with this sort of thing. Times have changed a lot since the 90s. Even though she does not agree with the zealots who say animals only belong in the wild, she would not do this today but does not regret doing it then.