I think mom is really frustrated with us right now, especially me. It all started like this.
A while back, when it was really cold and windy, our power went out. Without power we had no heat. Temperatures were in the 40s during the day and the 20s at night. Mom's friend, Kelly, called the electric company and they said to expect an extended outage. Well, not knowing what that meant, mom ran right down to town to get a kerosene heater. Of course, while she was gone, the power came back on so she just left everything in the car, where it stayed until yesterday when she decided to unload the car.
The heater came in a very large, heavy duty box which mom thought we would love. She got the camera ready to do a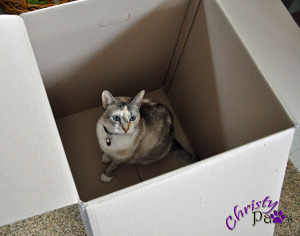 photo shoot for some new box pictures. She called us over to it, showed it to us, turned it on its side, but we were having none of it. She even put us in one at a time, several times each, and we all just immediately jumped out. Doesn't she know yet this has to be our idea? Anyway, we just were not interested in that box and refused to cooperate.
Today, after we wrote this post, mom decided to take some pictures of me jumping out of the box to illustrate. She put me in and I wouldn't come out. I peered out at her and took a bath.
When she downloaded the photos to add to the post, the one of me peering out was out of focus so she put me back in to try to duplicate it. I wouldn't stay in the box! She gave up. What fun to torment her!
Thank goodness it's been toasty and warm in the house and we haven't needed that new heater yet.