No, this is not a post about a black and white kitty. This is about a cowkitty of a different color.
I am proud to announce that I recently became a Cat Scout. Many of you know about Cat Scouts but for those who don't, it is a place for cats of the blogosphere to have fun, learn and do service projects. I've been wanting to join for a while but mom kept saying she couldn't keep up with all my STUFF as it was without adding Scouts. Finally, thank catness, when they started the traveling flat cats, I begged and she couldn't resist anymore.
You may remember that mom made a flat of me to take to BlogPaws. We still have that one but it is so large (life size) that it would be very expensive to send around the country, so mom made a smaller Traveling Flat Christy. By the way, I am looking for a name for my traveling flat. If you have an idea, please let me know in the comments! I really like my new flat but Traveling Flat Christy is a bit long for a name!
It took mom a while to get my flat done (so what's new?) and we had a visitor before she even started on it! When Ali, a Scout from Lafayette, Indiana, arrived, I was so excited. She was a little tired from her trip but we talked girl talk for hours. I showed her all my favorite places to hang out and the best places to bird watch.
We were hanging out looking out on the flowers on the deck and the hummingbirds when Ocean decided he wanted to meet Ali.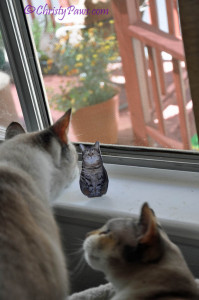 Mom had told all the Scouts participating in the Flat Scout project that whoever came to visit would get to ride a horse. Mom was originally thinking just a short pony ride but decided a trail ride would be so much more fun.
Mount UP, Cowcat!
When the horses were ready, Ali couldn't wait to get in the saddle.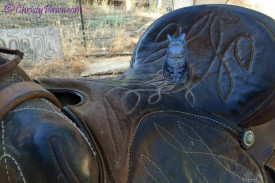 Whoa there, Ali. You've got to wait for mom.
It was a glorious day for a trail ride. We are so grateful to live in such a beautiful place and to be able to share it with you.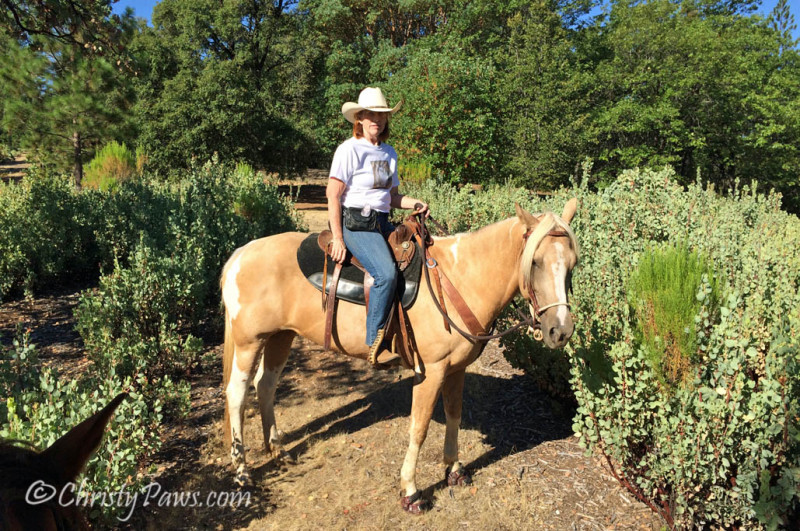 Are you wondering if I was along for the ride? Indeed I was. That is t-shirt Christy mom is wearing.
Ali got to see some poison oak up close. It looks so pretty when it starts to turn red. Humans need to remember, "leaves of three, let them be." By the way, it is non-toxic for us kitties if you were wondering.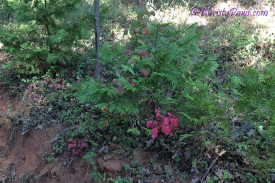 Mom said there were more deer on this ride than she has ever seen during one ride. Maybe they knew we had a visitor. This is just one of the groups we saw.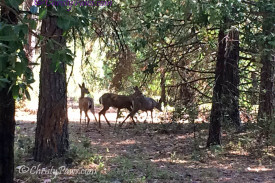 Ali stayed a whole week so she got to go on a second trail ride. This time, she even got to ride Sequoia with Kelly.
Here's a short little video we did arriving at the lookout point. In the photo above, Kelly is saying hi to Ali's mom. We videoed it but it was a little too breezy and you couldn't really hear it so we didn't include that part.
https://youtu.be/E-HORLEaNPI&rel=0
After Ali rested up from the ride, we sent her on her way to Scout Gracie in Spencerville, Indiana. I'm really looking forward to more scouts visiting.
After Ali left, mom finally made my flat and I am currently on my way to visit Shoko (Canadian Cats) in British Columbia, Canada. I have a big surprise for her when I get there. I'm pretty excited about the surprise and that my first trip is to a different country.
Today is Caturday, and Caturday Art day, so we made an artsy colored pencil piece of me and Ali.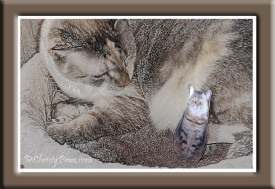 If you have a suggestion for a name for traveling flat me, remember to tell me in the comments.
Have a beautiful day.
Christy Paws
We are joining the Caturday Art Blog Hop hosted by Athena and Marie. Click on the badge to see more great art or to join in the hop.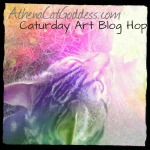 We are also joining our pals over at Rascal and Rocco for the Pet Parade.