Boy, are we ever behind! You know how some days just don't go right? Well, yesterday was one of those days — and today seems to be following right along. Mom was about to post the art she did for today and suddenly realized it was not what she had planned for the letter V in the Blogging from A-Z Challenge. It was a totally different picture that she could not title with a V no matter how hard she tried! So she had to quickly do another one. The good thing is that she likes this one much better.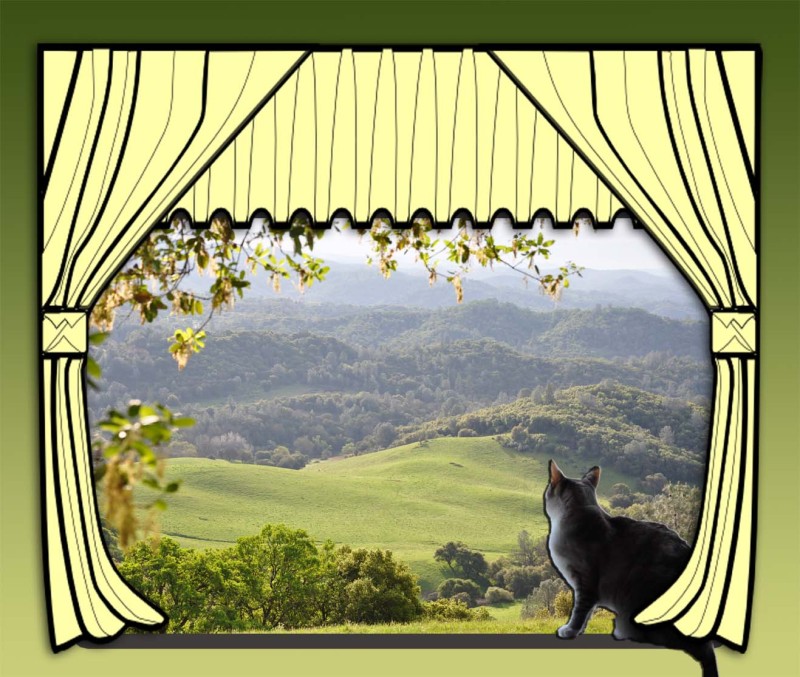 Mom took this photo a few miles from our house. It was early in the day and a little misty still. This is what it looks like everywhere around here! Mom says she never gets tired of the beautiful vistas.
For this piece, she added some clipart curtains, clipped me from another photo, beveled me to give me a bit of a 3D effect, added a gradient to the "wall," some drop shadows, and a stroke around the original photo to create the window sill.
As we try to do every Saturday, we are joining the Caturday Art Blog Hop hosted by Athena and Marie. Click on the badge to see more great art or to join in the hop.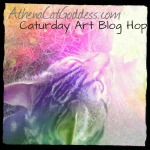 Shopping Around the World
On Thursday, mom did her shopping for Shopping Around the World with Bacon and Fozzie. Thursday evening, she made her dish and photographed it. On Friday, mom was going to usurp my blog to do her post. (According to the dictionary, usurp means to take illegally or by force, which of course she wasn't, but that's my U word and I'm sticking to it.) Come Friday, the day had other ideas. So, now, here it is Caturday – almost over – and we are combining our Friday post with Saturday. I insisted that she post it since she worked so hard on it.
1. We haven't really lived here long enough to know just what the cost of heating and cooling will be. This house has propane heat in the main part and electric heat in the add on. Our first electric bill nearly gave mom a stroke so the heat was turned down several degrees. We now keep it around 68°F (rather than 71°) during the day and 54° at night and our last electric bill was under $30. That first month it was also much colder than it is now. Our propane tank was filled when we moved here and we have used about half of it. They are supposed to refill it every month so the bill stays on sort of an even keel but they haven't. Mom has to call them! That half a tank has lasted about five months and was $150. The propane also heats our water.
We don't have air conditioning. The house has a swamp cooler but mom says she probably won't have it put back in this summer. We'll see if she does or not. They say it can get pretty hot here in the summer.
2. Mom's favorite meat is pork but what she priced is ground beef.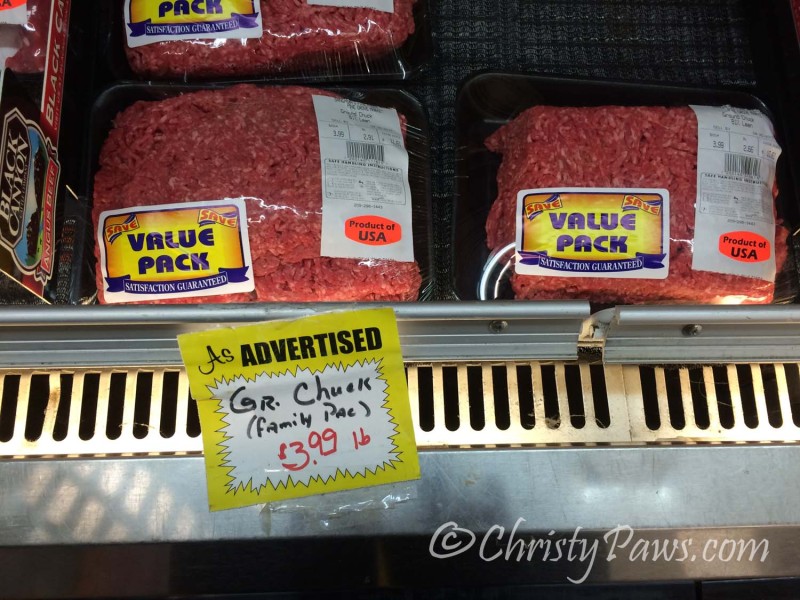 3. Mom's favorite vegetable for the last year or two has been Brussels sprouts. Now, if you think you don't like them, mom says chances are you haven't had them fixed the way she does them. Frying and roasting vegetables has opened up a whole new world! Mom usually gets Brussels sprouts at Costco and they are $4.29 for a 2-lb. bag. She also loves bell peppers, especially red ones, so she priced those for you, too, just for the heck of it.
4. The random item she priced is egg noodles. They were $2.99 for 12 ozs. at our local Pine Grove Market.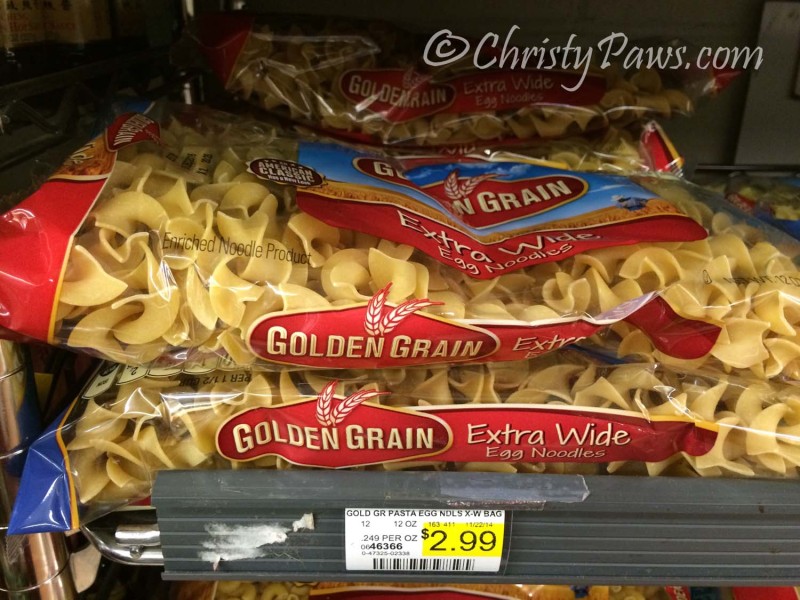 5. The dish mom made was Swedish meatballs. A while back (on K day for Kitchen), mom made a bunch of meatballs for the freezer. She used about a half a pound of these, made a beef cream gravy with sour cream for them and used about half the noodles. She made a pound of the Brussels sprouts. This made plenty for dinner for her with two lunches left over.  That's about $4.50 for the Swedish meatballs and $2.25 for the Brussels sprouts, so about $2.25 per meal! What a bargain and so tasty, so she says. I wouldn't know, she didn't give me any.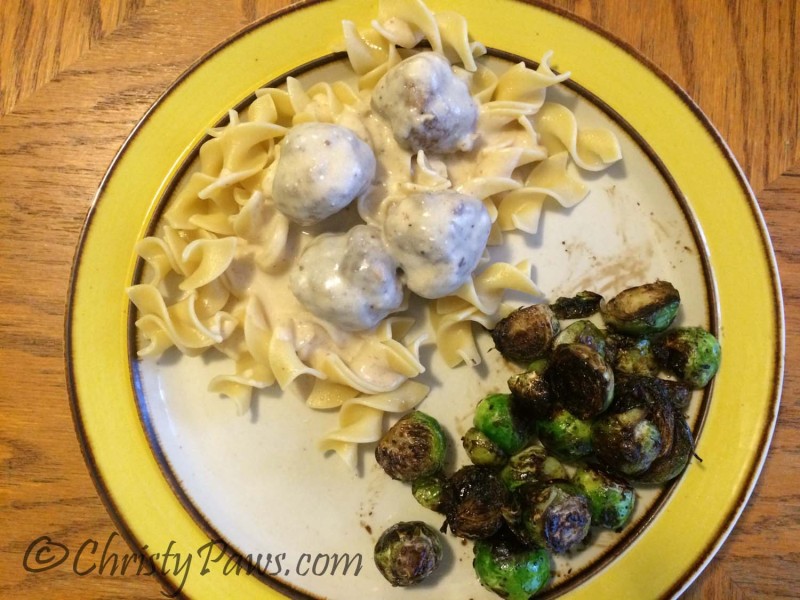 Mom enjoyed doing this so we will probably participate again next month. How do these prices compare in your neck of the woods?
Have a beautiful Sunday!
Christy Paws