What is a whirling Dervish, you ask? Well, way back when mom shot this video of a former foster kitten and wanted to title it Whirling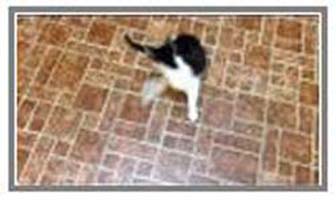 Dervish Kitty, she researched it. She wanted to be sure she wasn't going to offend anyone. She had heard the term for years but didn't know the origin or exactly what it meant, only that it was something going round and round — whirling.
When we decided to use this video for W in the Blogging from A-Z Challenge, we needed to do more research. First, we went to Wikipedia, our favorite research tool. Holy cats. After reading all that, there was no way mom and I could put anything on paper that made any sense to a kitty or most of her friends. A simpler explanation was found by searching for a definition:
a member of a Muslim (specifically Sufi) religious order who has taken vows of poverty and austerity. Dervishes first appeared in the 12th century; they were noted for their wild or ecstatic rituals and were known as dancing, whirling, or howling dervishes according to the practice of their order.
You may have seen this on TV, or maybe even in person if you have visited Turkey.
The term has come into common usage, with the original meaning forgotten for the most part. It refers to anything moving in a spinning or whirling motion. So, mom's title of this video was very appropriate. It was submitted to The Friskies in 2013. Hope you enjoy it! It's short, but cute.
Don't let your day spin out of control!
Christy Paws