Good morning friends. Can you see I have my harness on? Mom has been making me wear it a lot lately. She says I have to step up my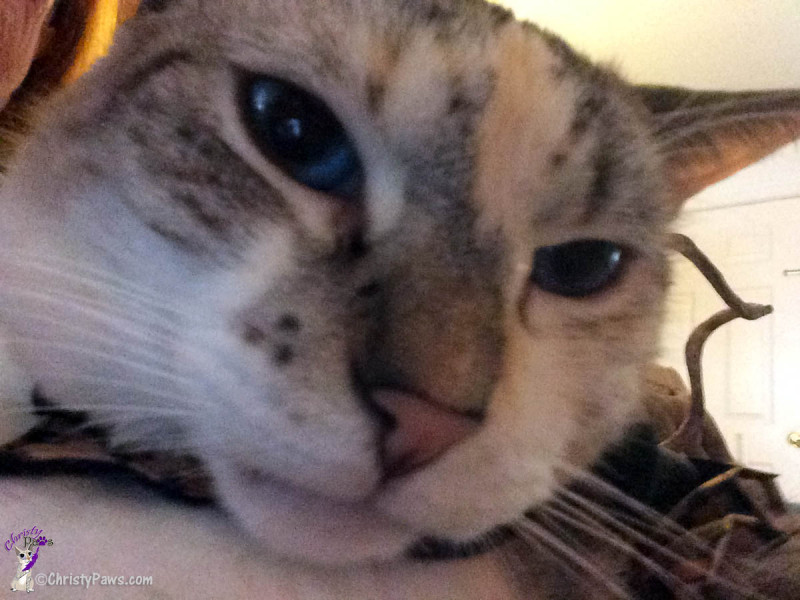 game so that I'll be ready for BlogPaws next June. I was so NOT ready for this past BlogPaws in Nashville.
I'm much more comfortable in my harness now. I don't try to run and hide when I see it come out anymore because I know I will get treats after it is on. It still feels a little funny but I'm OK with it for the most part.
Mom says the next step is to go for some rides in the car. That should be easy peasy because I was such a good traveler when we moved here. The car didn't scare me at all. Echo and Ocean sang the song of our people forever, but I just rolled around in my carrier and looked cute, hoping mom would let me out so I could sit on her lap.
I wonder what it will be like at the pet store when I get to go there to pick out a toy and new treats! Mom says it's a wondrous place for pets.
Mom is also putting treats to good use to help me learn a few tricks. I learned right away to sit and stay for photo shoots. Up is getting pretty good and my newest trick, high five, is really easy. Mom says when I get a little better she is going to make a video so you all can see just how smart I am.
Well, that's all for this easy Sunday. Hope you all have a great day!
Christy Paws
We are joining the blog hop hosted by our friends at The Cat on My Head. Click on the link or badge to see more.