The celebration of Adopt-A-Less-Adoptable-Pet Week is coming to a close on Saturday, but less adoptable pets need our help all year long. Pets considered less adoptable wait for a forever home many times longer than a cute kitten or puppy. What animals wait the longest? Petfinder conducted a survey and here is what it showed:

Petfinder created Adopt-A-Less-Adoptable Pet Week in 2009 to help bring awareness to the plight of these special, unusual, or sometimes too common, pets.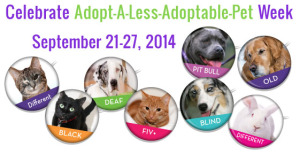 The pets with special needs group can include blind, deaf, missing or deformed limbs, FIV+, and any other condition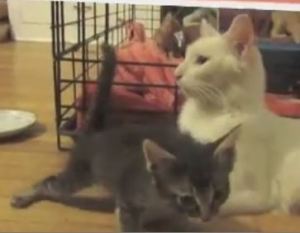 that makes them less than perfect. Rocky is a "special" kitten that came to MeoowzResQ a few weeks ago with his mom and litter mates. Right away, his foster, Wendy, noticed that he was having a problem with his back legs. They were at an unusual angle and would slide out from under him when he tried to walk.
Wendy did a little research and was pretty convinced he had swimmer kitten syndrome. A visit to the vet confirmed this. With treatment and exercise, he continues to improve. Below is a video of his journey so far. The video is long but worth a watch. Rocky will be available for adoption soon.
Rocky is one of the lucky ones. It is quite likely that he will soon be completely "normal" and have an excellent chance at being adopted.
If you or someone you know is looking to adopt, please give the less-adoptables a look and a fair chance. Every kitty deserves a loving, forever home.
Christy Paws