Hi Friends. I had planned to show you photos of the beautiful flowers on our deck today but it rained all day
yesterday so mom couldn't take photos. The flowers are a little worse for the wear, too. The rain and a little bit of hail kind of beat some of them up. It will probably be a few days now before they are pretty enough again for a public display. And mom got even more plants yesterday (including another catnip for me!) so she needs to plant a couple more pots. It is really looking lovely and I'll show it to you soon.
Those of you who follow me probably think we are pretty spoiled cats when it comes to all our cat trees, beds and other catification mom has done for us. Well, after Wednesday, we might have to agree with you just a little. That morning, mom's friend, Kelly, from next door, came over with her iPad. She had seen a marvelous cat tree on a local garage sale site that someone was getting rid of for a great price and had to show it to mom.
Apparently, mom could not control herself. She called them right away and said she would take it. That afternoon, she and Kelly drove to Ione, about 30 minutes away, to pick it up. In preparation, mom had rearranged her whole office area so that the tree would fit in front of our favorite window.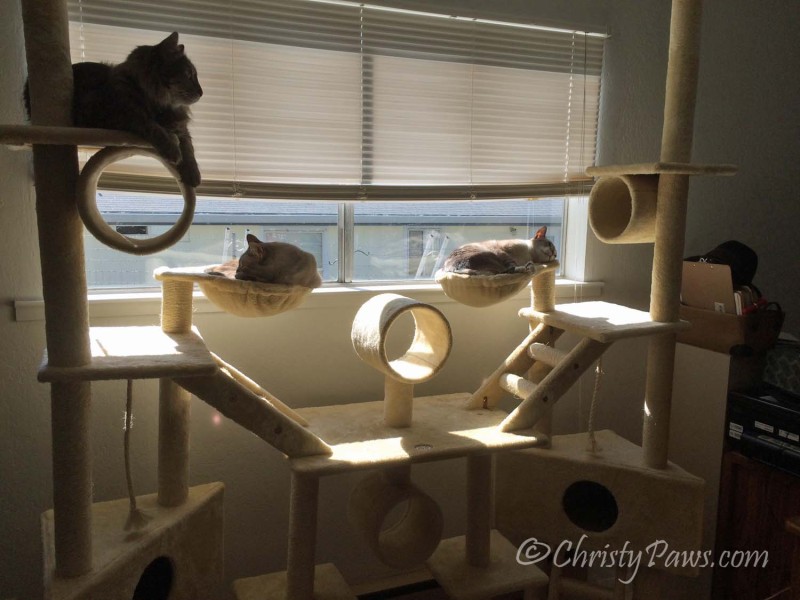 We couldn't believe our eyes when she got back and started bringing in the parts and putting it together. Echo and Ocean couldn't even wait until she was finished to start climbing on it. It has plenty of shelves, hammocks and hidey holes for us all to be on it at once with each of us still having lots of personal space. We love the little hammocks where we can curl up and be so snug and warm. Mom was worried that the little hammocks would be too small for us (what was she trying to say?), but we fit right in. The tunnels, however, are a little small for us so mom took one of them off this morning to make a larger platform in the middle. Echo and Ocean will especially like that since they like to sleep together so much. Speaking of Ocean, he likes to get on the highest shelf and sharpen his claws on the pole that goes to the ceiling! Yikes!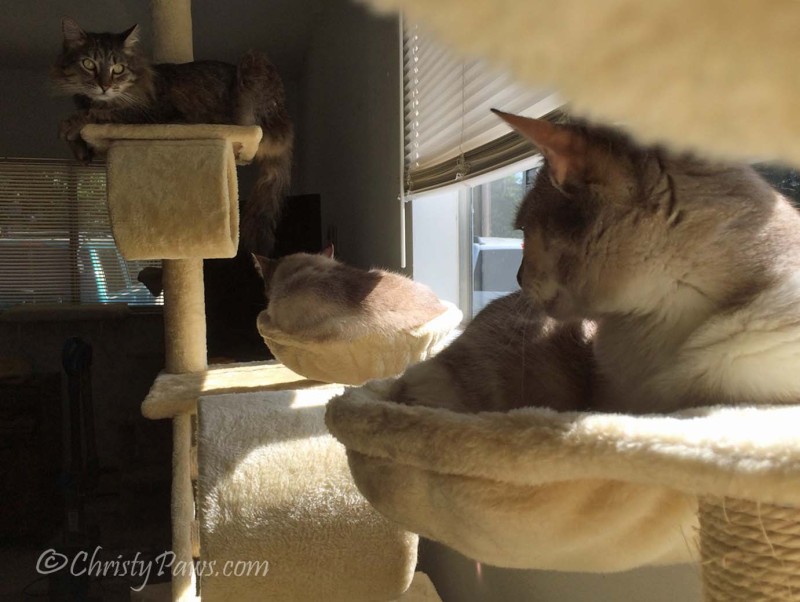 We are loving our new gigantic cat tree. Now if the sun would just come back out so we could enjoy sun puddles on it again!
Have a great day!
Christy Paws