A few weeks ago, Flat Andy, one of my Cat Scout friends, arrived for a visit all the way from Ashtabula, Ohio. That's a long way to travel, over 2400 miles, so you can imagine that he was pretty tired when he got here. My silly brofurs, Echo and Ocean, wanted to meet him right away instead of giving him some time to rest.
Echo showed him one of his favorite perches in front of our favorite window — yes, it's everyone's favorite window!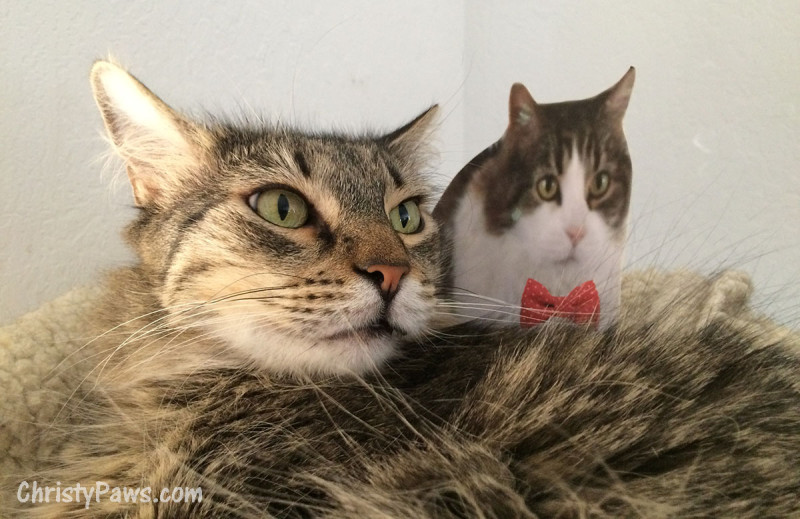 Ocean was curled up in one of the little pods on the big tree and wanted Andy to join him there. Good thing Flat Andy is skinny or he would never have fit!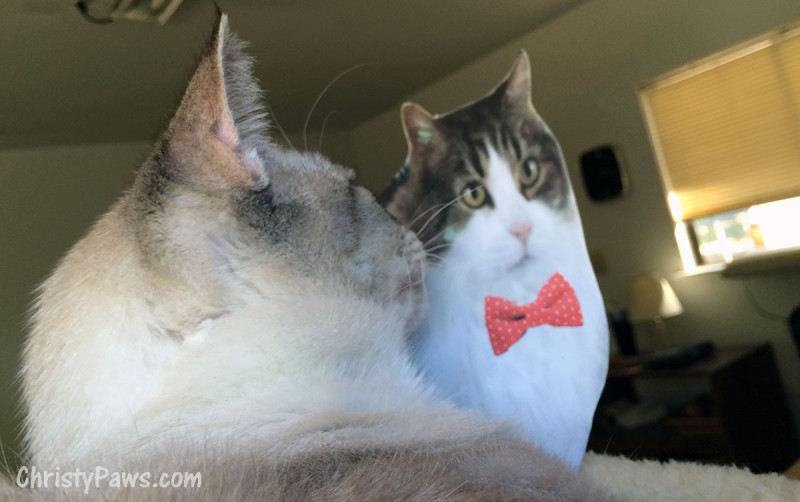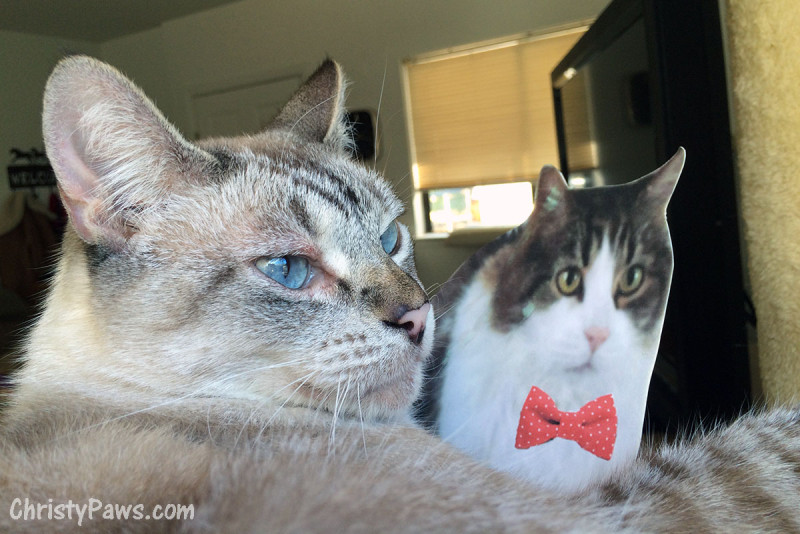 Finally, I got some time with him and we had a good long chat. No, I didn't let him rest either, but he wanted to tell me all about his visit with Dezi and Lexi. Andy is Dezi's boyfriend so he was very excited to tell me all the details.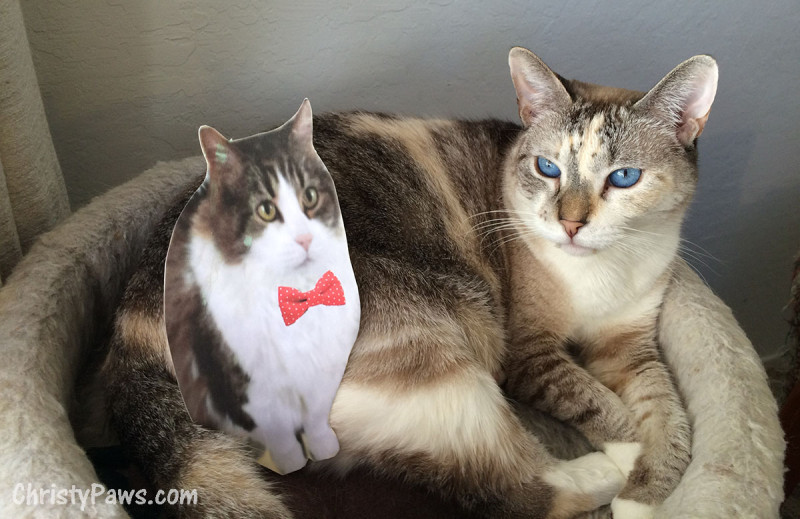 The next day, mom and Flat Andy went out to get the horses ready for a trail ride and it started raining while they were saddling up! It wasn't supposed to rain until the next day, but you know those weather peeps. Sometimes they get it right, sometimes they don't. So, they came back in the house and we visited some more and, of course, napped a lot. What else do you do on a rainy day?
Mom really wanted to take Flat Andy on a trail ride, but the horses were overdue for a hoof trim. She had Flat Andy stay much longer than she planned to, hoping it would work out so they could go on that ride. Sometimes, it's hard to get things done here.
Aunt Kelly's horse, Sequoia, has some issues and goes lame if he is ridden when his feet are too long. Mom says Dancer's shoer is excellent but he doesn't always keep appointments. He also runs cattle and if he has to go up the mountain to do something with them, he might not get back when he planned to. Such was the case this last time. He was gone so much longer than expected that he gave mom and aunt Kelly the name of another shoer. Several appointments were scheduled with him and he NEVER showed up! Finally, our shoer was back home and able to do the job but by then Flat Andy would have been here almost a month and mom couldn't keep him here that long. She knew he needed to be on his way so he could visit other scouts.
Even though he didn't get that trail ride, he did get to meet the horses up close and personal.
Flat Andy was a perfect guest and so helpful while he was here! He snoopervised mom in the garden on several occasions.
I think he had the most fun while he was here when he got to go to the chili cook-off in Sutter Creek. Mom's cooking group, Saucy Sisters, entered their chili for the first time this year and won! Not only did they win for best chili but also for best costumes and best booth. Flat Andy told us they were all so excited, yelling and screaming and whooping it up. He said he was proud to be a part of the team.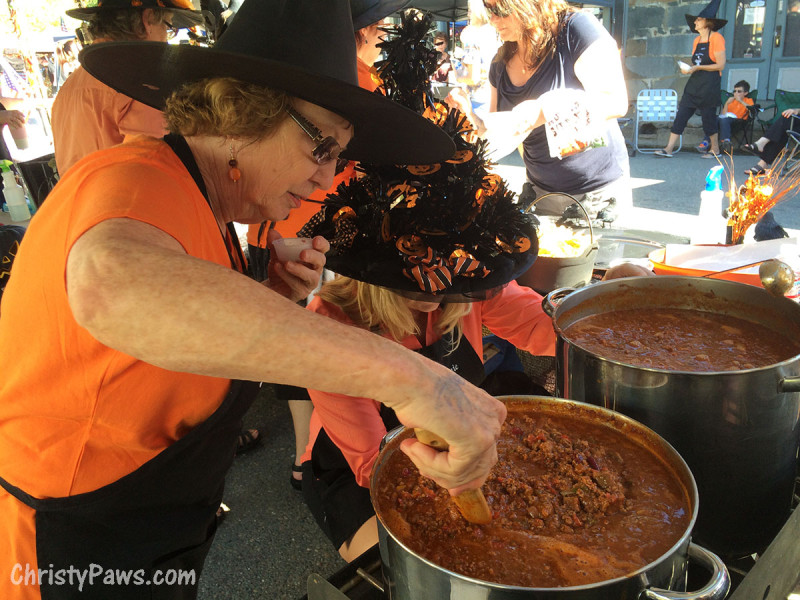 We really enjoyed having Flat Andy here and were sorry to see him go. I hope he is having tons of fun visiting other scouts.
Mom made this special Halloween card for us so we could join in Caturday Art. It is still Saturday, right? Since we are so late, mom just put a simple frame on in piZap.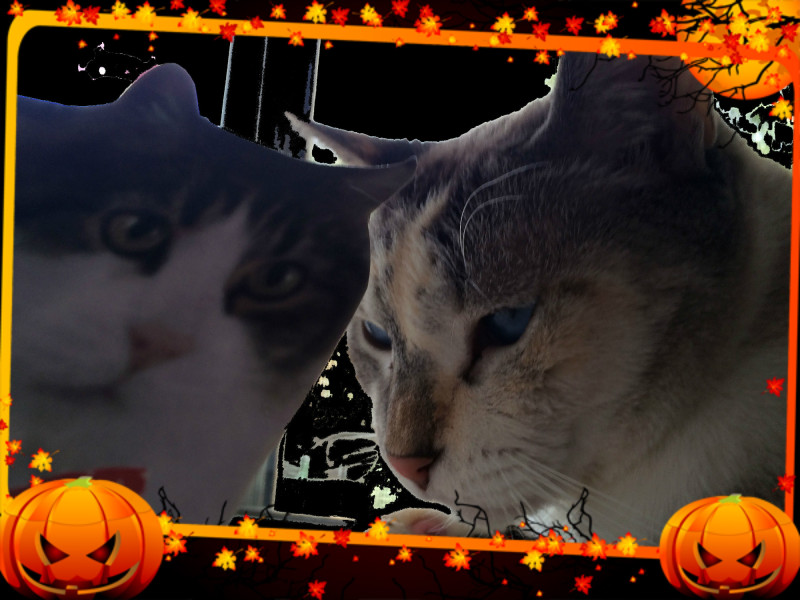 Have a winning week!
Christy Paws
We are joining the Caturday Art Blog Hop hosted by our friends Athena and Marie. Click on the badge to see more great art or to join in the hop.