Although we didn't have a blizzard, we did have our first snow on Wednesday. Not only was it our first snow of the season but our first snow ever since we moved here. That's right. It never snowed last year. Mom was pretty excited about the snow but I didn't really find it that interesting. She says I'll feel differently about it when I go out in it. What? When does she think that is going to happen?
When she was trying to get me to look at it so she could take a picture, all I wanted to do was get away from the cold, open door. Silly mom. She even brought out the treats to try to get me to stay by the door. Well, that was the end of that. All I could look at then was mom and the treat bag.
Mom was working on this week's art when it started snowing so that was her inspiration for this piece.
Here's the original photo and the boring technical stuff for anyone who cares. In Photoshop, mom used the render clouds filter on the background and the mezzotint filter on me. Then, in honor of the snow, she used the blizzard action on the background. She applied these effects to everything but my right eye. Finally, she added a brushed aluminum frame.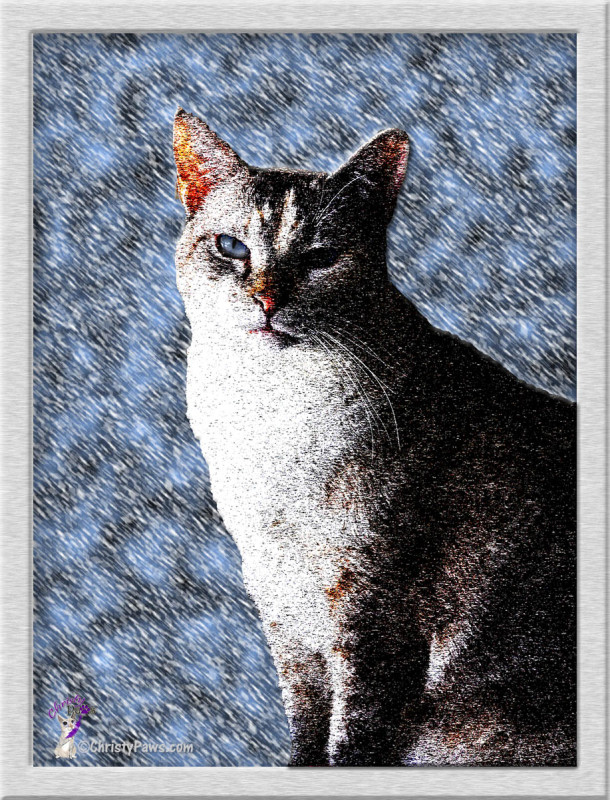 Stay safe and warm!
Christy Paws
We are joining the Caturday Art Blog Hop hosted by our friends Athena and Marie. Click on the badge to see more great art or to join in the hop.