I've missed quite a few Sunday Selfies lately but I hope that is all in the past. I've been working on whipping the typist (aka mom) into shape. She's doing pretty good so far — hey, it's been a week already since we had our talk!
I know you were probably expecting a photo of me and my gorgeous blue eyes, but since the holidays are coming up when humans usually have a lot of visitors, I have decided to bring you a couple of guests today.
Mom was very busy last week with pet sitting. She was even gone overnight again one night! Why does she do that? Well, anyway, she took some photos and I picked out a few of one family.
This is Peaches. Selfies never really do a kitty justice, but just so you know, she is quite a stunning calico. Mom said Peaches tried to sleep with her but the dog wouldn't let her. Yes, mom was cheating on us with a DOG!
So here are Peaches' selfies. I think she did a superb job.
Here is Dinah's attempt. Silly dog doesn't even know the basics of looking at the camera and holding still. Then she was so distracted by Peaches that she couldn't do any more. But then she is just four months old so I guess she has lots of time to practice.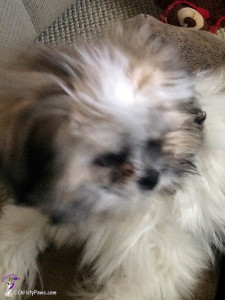 Here's a photo of Dinah and Peaches together. The cat is still bigger than the dog!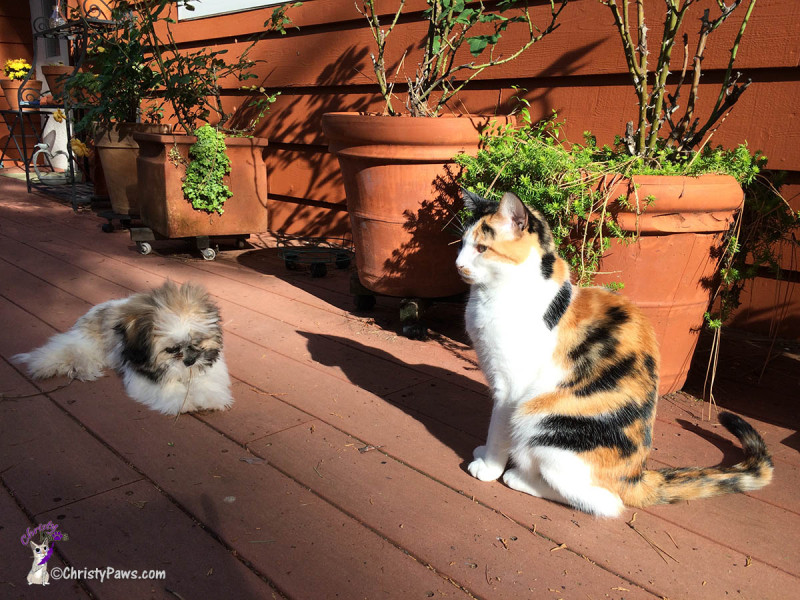 Have an easy Sunday.
Christy Paws
We are joining the blog hop hosted by our friends at The Cat on My Head. Click on the link or badge to see more.