I am still pretty new at blogging (My one-year blogoversary is coming up in two months. Can you believe it?), so I almost missed International Box Day. But here I am thanks to a heads up from my friend Sammy over at onespoiledcat.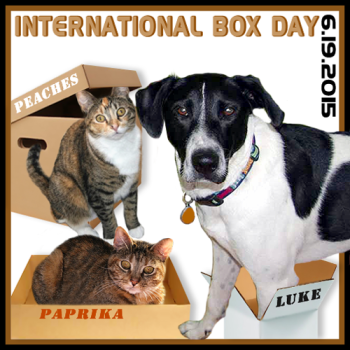 Since I had never heard of this, I had to research it. Once again, Google is my friend. Here is the explanation from Wag 'n Woof Pets, one of the hosts of the event:
International Box Day is an annual blogosphere event created many years ago as an opportunity for cat blogs to show off funny photos of their cats in boxes (who doesn't have a photo of their cat in a box?). Later on, dog blogs were also invited to join in the fun!
The two calico cats of distinction, Peaches and Paprika, are co-hosting.
Wow! A special day to show off how much kitties love boxes. Now, I have to say, I'm not as much of a box lover as Echo and Ocean, I prefer my paper forts, but I do my share of inspecting and taking an occasional snooze in transient boxes.
Plain old cardboard boxes may not hold as much attraction for me as they once did, but I do like non-traditional boxes like mom's suitcase when she was getting ready for BlogPaws.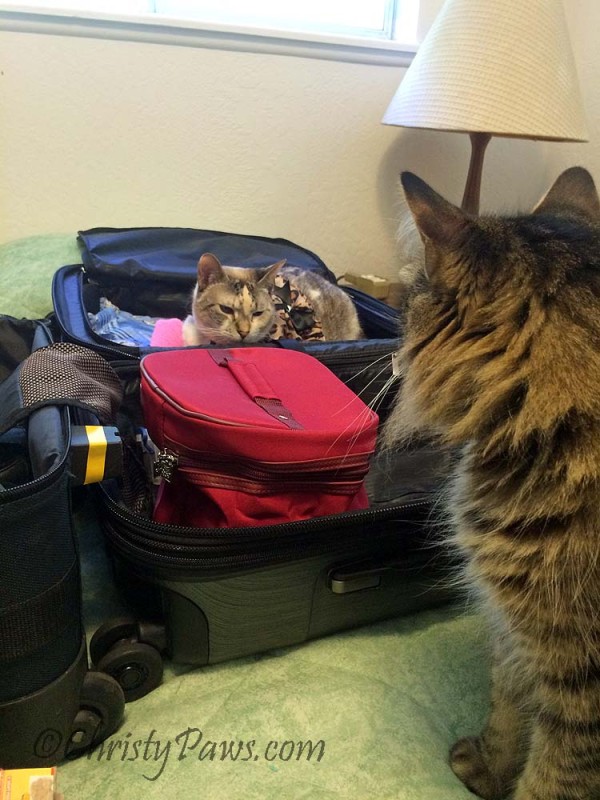 Can you believe scientists do research to try to find out just why we are so drawn to boxes? It's true that we feel safe in them but there's more to it than that. Sometimes we may use boxes or other small, enclosed spaces to hide and shut out scary, unwanted behavior but sometimes we just have fun with them!
Here's a video mom took several years ago of Ocean and Fontana.
Oh, and they keep us warm. Did you know that our "comfort zone" is between 86 and 97 degrees Fahrenheit, nearly 20 degrees higher than the comfort zone for you humans? So we get warm and toasty when we curl up in a nice insulated box. And that's also why, when you think it is blazing hot, we will be in the sun puddles in the window.
Part of the packing that was in the huge box with the new swamp cooler was this interesting styrofoam item. We all had to check it out and take turns in it. Ocean decided he liked it so much that mom left if for days for him to sleep in at night. Eventually, he started making a mess with it scratching at it and it disappeared.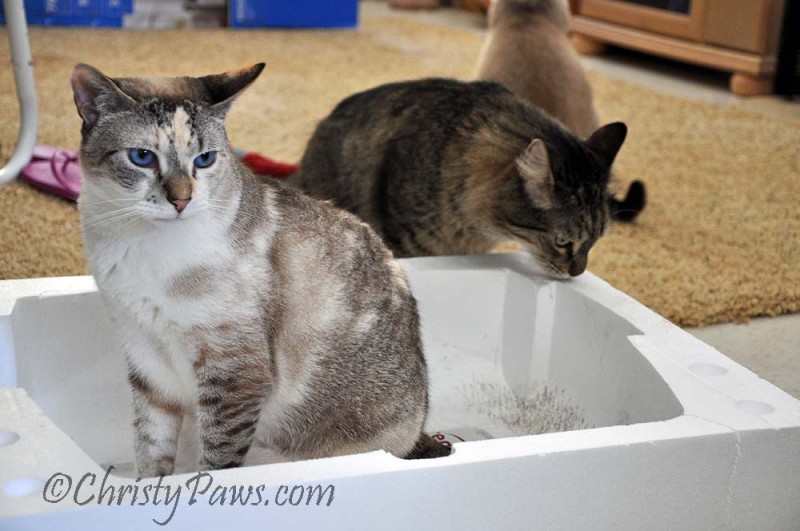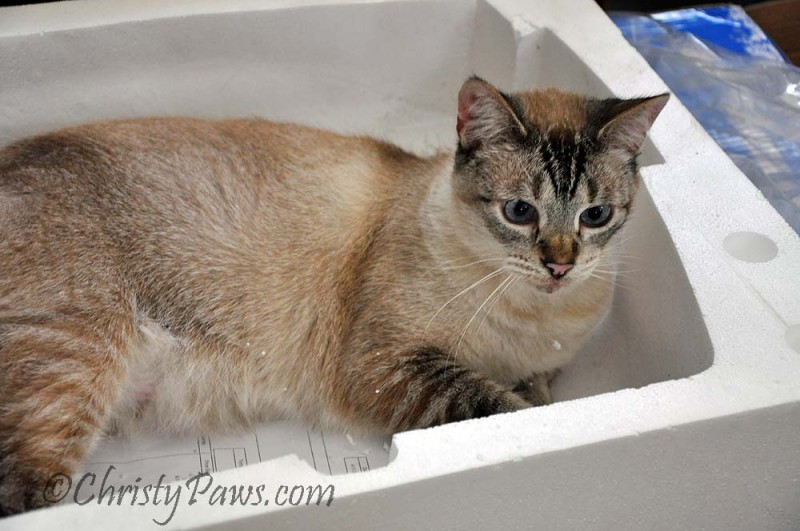 I want to leave you with a video containing some of my favorite clips of cats enjoying their boxes.
Happy International Box Day!
Christy Paws
We are also joining Rascal and Rocco for their Pet Parade.