Saturday was just a purrfect day! Lots of my friends stopped by to wish me a happy birthday and Echo and Ocean a happy gotcha day. The evening was very quiet with no fireworks boomers.
Mom was here with us most of the day except when she went to see her pet sitting kitties. On the way back from her morning visits, she wanted to stop and get us a little treat to add to the celebration. She was going to get us some new kitty grass but the pet store was out! Bummer. We have lots of toys but she said she figured that was the next best thing.
When she got home, she laid the toys out to take a picture and Ocean claimed them immediately – before she even got them open or the tags off.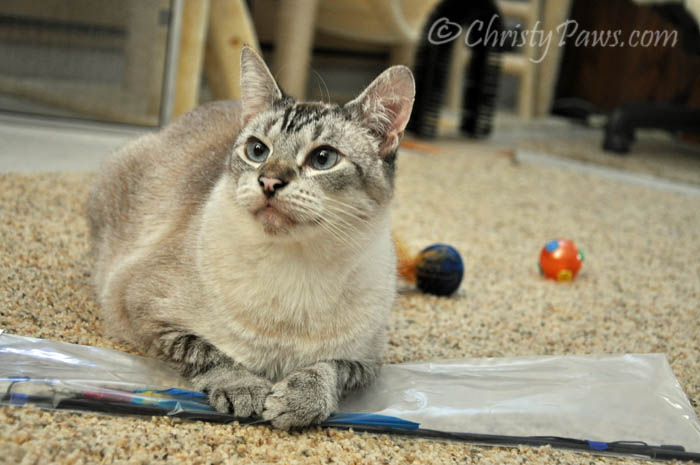 Echo and Ocean love little rolly things so mom got a couple of those but the best thing she got us is DaBird! We've only ever had one wand toy. It is on a tiny little stick with a short little string and a Christmas toy on the end. How sad is that? We've had that thing for years! So, DaBird is pretty exciting.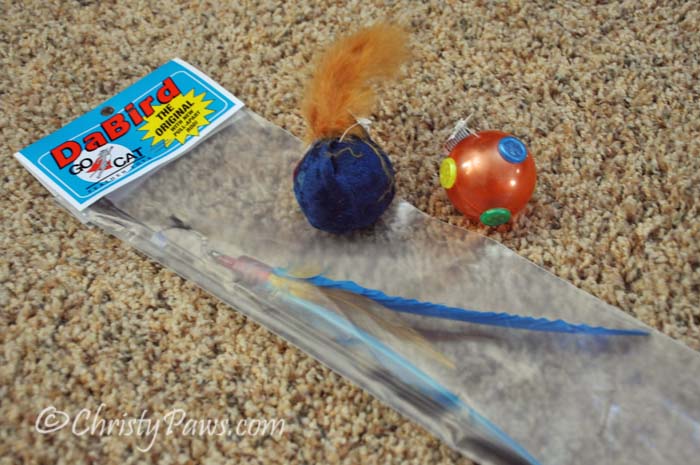 We all got into our hunting mode and had a great time leaping and stalking. We love the long rod and string. Mom had to put it away where we couldn't get to it when she was done. Wait. What? We weren't done! Geez, humans have a short attention span, and no patience. At least she gave us some of our chicken skin treats when she put it away.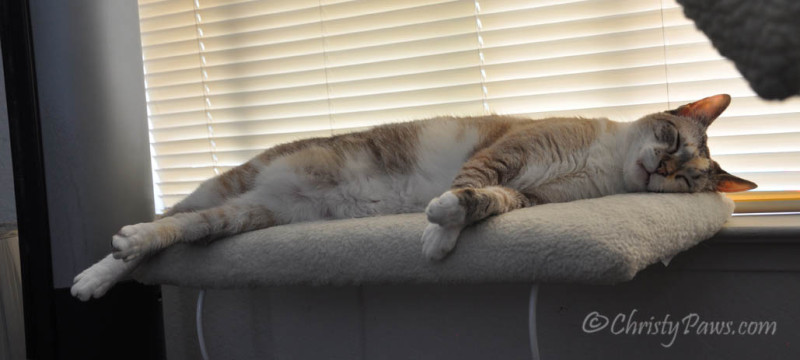 In the afternoon, it got pretty hot so we just spent the rest of the day napping until dinner time. While mom was at the pet store, she got us a couple of cans of stinky goodness. She made sure it was grain free and had a very high meat content. Since we almost never get canned food, this is a treat for us, or so mom thinks. Echo and Ocean gobbled it down but mom had to put the bowl in front of me twice before I would eat it. I really prefer my homemade raw food. Also, I don't like pate. I don't like pushing my face into it. Yuck! What can I say?
So, we had friends visiting, mom to love on us, new toys, and treats. What more could a kitty want? Thank you to everyone who stopped by and helped make our day special.
If you haven't entered my giveaway for some great toys yet, there's still time. Click here to go to my Gotcha Day/Birthday Celebration and Giveaway post.
Hope everyone had a safe and happy Fourth of July weekend.
Christy Paws