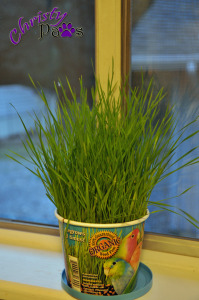 Before mom headed back down to southern California to pack up the rest of our belongings, she started some kitty grass (yes, I know the container says birdie grass) for us on the windowsill. Mom hasn't grown us grass in a very long time and, as an indoor cat, that's the only time I get it.
It grew quite nicely while she was gone and is now ready for us. Since it is in a cardboard container, it is not very heavy. Mom didn't want to just give it to us to munch on because she knew the boys would just turn it over or pull it out and make a mess with it. So, instead, she snips it over our raw food just like chives on human food! What a yummy little treat.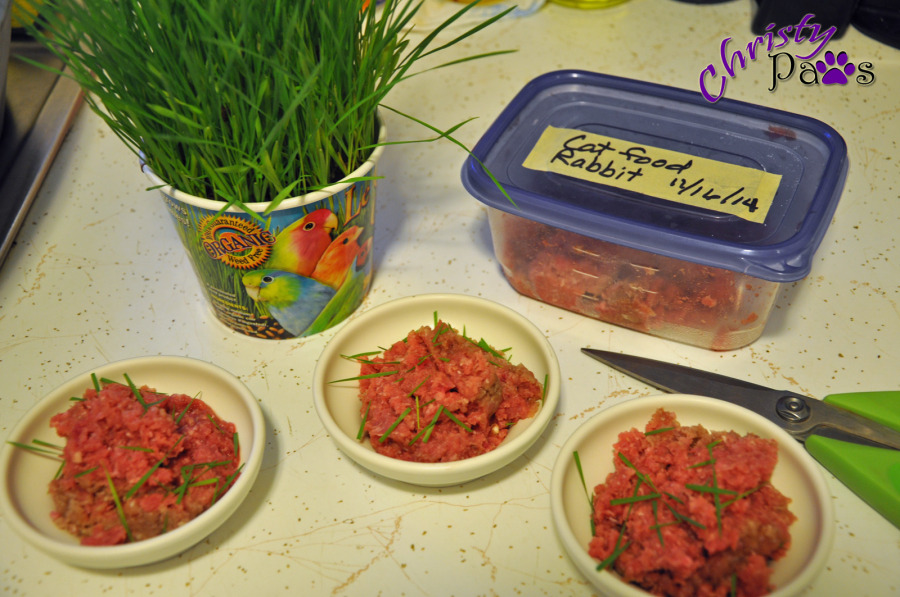 Why Do Cats Eat Grass?
I know why I eat grass — I like it, but mom wanted to know what the experts say about it so we did some research on the internet. Here are some of the theories about why we eat grass.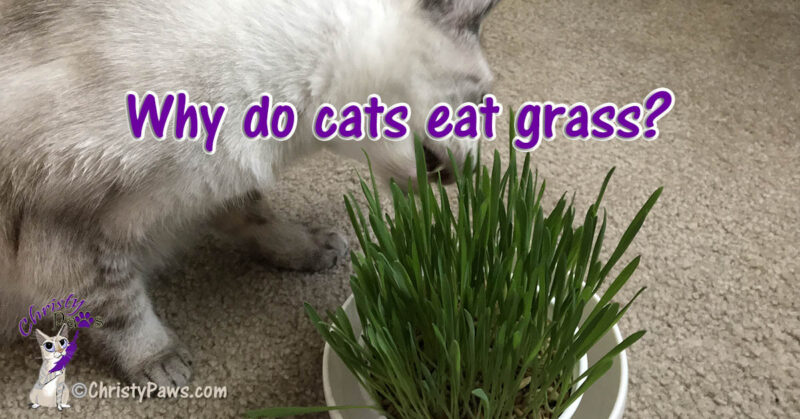 Cats

regurgitate

when they eat grass because they lack the necessary enzymes to break down vegetable matter, so this may eliminate all indigestible material from the digestive tract.
Perhaps they like the taste of the sweet juices in grass.
It helps a cat to cough up hairballs.
It may act as a natural laxative, moving hair that wasn't hocked up in hairballs and moved farther into the digestive tract, out the other end.

Dave's Garden had the most interesting article about cat grass. Dr. Geoff Stein concludes that there are only the above theories about why cat's eat grass and no evidence supporting any of it. He says, "Though I can't say for certain that eating cat grass is healthful, I can at least say that it is probably safe in most cases. Offering grass to a cat, particularly an indoor cat, can distract them from nibbling on other, potentially hazardous and toxic indoor houseplants and other items. It is far better for a cat to eat immature cat grass than lilies, or philodendrons, or string etc. So I can say that in many cases eating fresh, young cat grass at least does not appear to be bad for most cats."
OK, so who really cares why we eat it!?! I say, let 'em eat grass!
Christy Paws