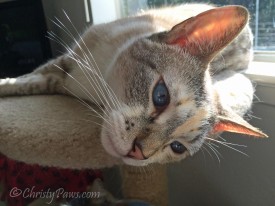 Spring officially arrived on March 20th, the spring equinox in the Northern hemisphere. That is one of the two days of the year when daylight and dark are approximately equal.  It is said to be a time of rebirth and regrowth and we are definitely starting to see the signs.
Here's how I can tell spring is here:
Mom is brushing us more because we started hacking up hairballs. Hair is coming out by the hand-fulls.
My woofie furiend, Dieter, got a haircut. His mom thought it would be cute to give him a Mohawk!
It's getting warmer and the days are longer so the doors and windows have been open more.
The grass is getting way out of control! Mom and Kelly let the horses graze on it this afternoon after their ride.
Our tree in the back yard, almost over night, is covered with beautiful, shiny leaves.
Not as many birds come to my feeders.
There have been a couple of flies to chase. Mom couldn't get a photo of that!
Mom says the best sign of spring is all the flowers starting to bloom. She went to Daffodil Hill last weekend and took some fabulous photos so we could see what it was like. Here's a sampling.
Hope you are seeing lots of signs of spring.
Christy Paws