Meet Phoebe
I didn't get much information about this gorgeous girl so I am letting each picture of her speak 1,000 words. Phoebe is available for adoption from A-Pal Humane Society in Jackson, CA. Contact them at 209-223-0410.
Here's what A-Pal told us about her:
Phoebe is a 6-year-old dilute calico. She was turned in at the animal shelter as a stray so we do not know much about her other than she is very sweet.
[tweetthis]Sweet Phoebe, 6-yr-old dilute calico, is available for adoption in Jackson, CA[/tweetthis]
Kudo's to a Great Team
Here's another picture worth a thousand words.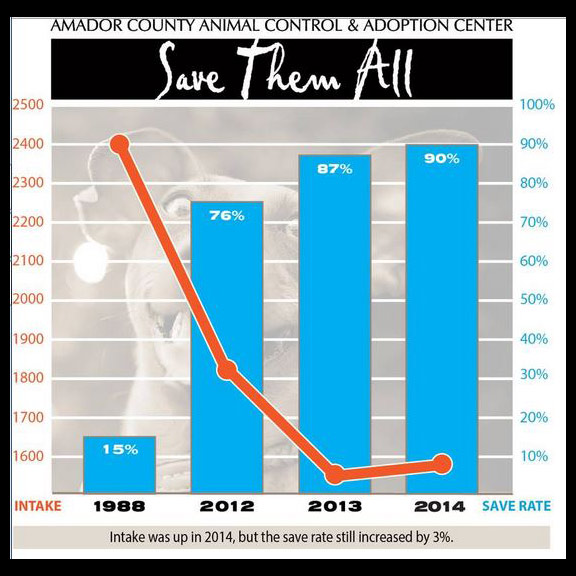 In May, A-Pal shared this graph on their Facebook page with this caption:
Through the hard work and dedication of Amador County Animal Control and Adoption Center's staff and volunteers, A-PAL Humane Society's volunteers, Twin Cedar K9, and the good folks of our amazing little community, we proudly share Amador County's 90% save rate!
I think you have to agree with me that those are amazing statistics. I'm sure their aggressive spay/neuter and community cats programs are largely responsible for the huge dip in intake animals. They were disappointed with the increase in intake for 2014 in spite of these aggressive programs but still improved their overall save rate.
If you would like to help A-Pal continue to make a difference, you can make a donation through their website. They also have a Zazzle store with lots of cute stuff. Select them as your charity at Amazon Smile by clicking the following link http://smile.amazon.com/ch/94-2462789.
A Challenge for You
If you have a local animal charity you support, or would like to begin supporting, I challenge you to do something special for them in the next 30 days. If you accept my challenge, I'd love to hear what you plan to do in the comments. I will be doing a comment-a-thon for my blogoversary (whew, I'll barely make the 30 days!) and making a donation to A-Pal.
Happy Friday and have a great weekend.
Christy Paws