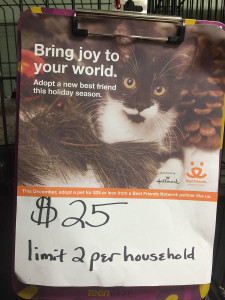 Mom went to the Feed Barn yesterday to photograph our featured kitty for today and found two that I want to tell you about. Before I do though, I want to say that mom was pretty happy that there weren't many kitties there! They are having a special reduced adoption fee for the holidays and it seems to be helping find kitties homes.
The first kitty I want to tell you about is Mr. White who has an all too familiar story. He is an obvious house kitty who was apparently dumped by his former owner. He is a sweet, friendly guy who had already been neutered before he was rescued. He was found living in a brush pile behind a veterinarian's office. He had tried to join a feral colony, but not educated in the ways of the ferals, he was beat up, starving and filthy. Thank catness he was trapped just before the rains started and is now under the care of A-Pal Humane Society. He is believed to be about three years old. Isn't he handsome?
Mom didn't get much info on Hannah, or Hannah Banana as they like to call her, but she sure is a looker! She is a long-haired tabby, possibly a Maine coon mix, believed to be a little over a year old. She sure would like a home for the holidays. She came right over to let mom scratch her and licked her hand in appreciation. Hannah didn't want to move away from mom so she could get a better photo of her. I keep telling mom she needs an assistant so she can open the cages and get the kitties out for their photos!
All of A-Pal's kitties are de-wormed, flea treated, vaccinated and spayed or neutered. Please share to help spread the word about Mr. White and Hannah. I know they would thank you for it.
Christy Paws