Mom worked on a catification project for us the other day. She put up a shelf. Really? One shelf? She says she does have plans to put up several more shelves for us and I did hear someone say that every journey starts with just one shelf step.
Since she doesn't have a saw and wanted to make this project as easy as possible for herself, she got pre-made shelves. She said she only got one so she could check out how the size would work for us.
She agonized for days over where to put this shelf. She just couldn't decide. Now come on. If you are going to put up several shelves eventually, what does it matter where the first one goes? Just put it up already.
I have to say that we already have it pretty good. This is our family/kitty room, office and laundry room. Mom counted and there are no fewer than 12 kitty places, not counting human furniture, in this room alone. And that's not counting all the shelves on the cat trees, but mom is obsessed with putting up shelves.
Once she finally decided where to put the shelf, you should have seen her climbing up and down and crawling around on top of the washing machine. I wish I had a picture of THAT! And the words that came out of her mouth… She kept dropping screws (one she never did find) and the tape measure wasn't very cooperative, but she finally got that thing up.
To make the shelf comfy for us, she used velcro to attach non-slip fabric to it and put my purple bed on it. I'm not sure how I feel about that.
When she finished, she said she was exhausted but she had to put us up on it, one at a time, to see what we thought. I liked it and stayed quite a while. I could see the birds on the feeder all the way at the other end of the room.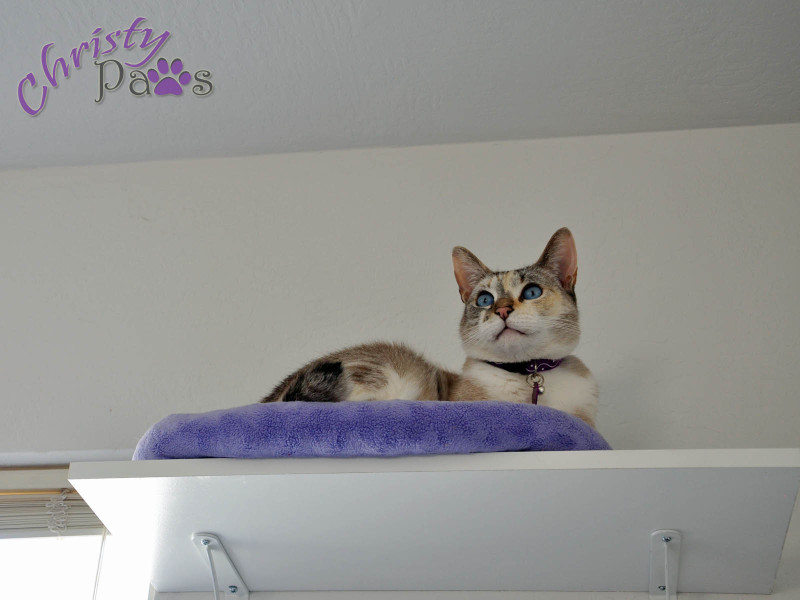 Echo liked it too and stayed long enough to take a bath.
Ocean, oh, Ocean. The putz jumped down right away and wouldn't have anything to do with it. I think he was just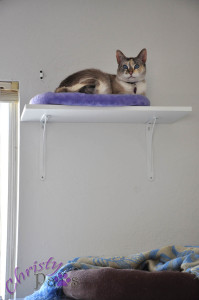 thinking about eating.
Mom was concerned that she had placed it too high and that we wouldn't use it on our own. Echo put her worries to rest when she came into the room the next day and he was on the shelf sleeping. And, by the way, she was silly to worry about this. Since cats can leap 5 or 6 times their own height without running, this shelf is easy peasy (I heard that on TV).
Hope you are having an easy day, even though it isn't Sunday.
Christy Paws