October is over and so is the Fall KittyCatGo Adventure Challenge. I promised in my last post about the Adventure Challenge that I'd let you know how we did so here is the update with our results.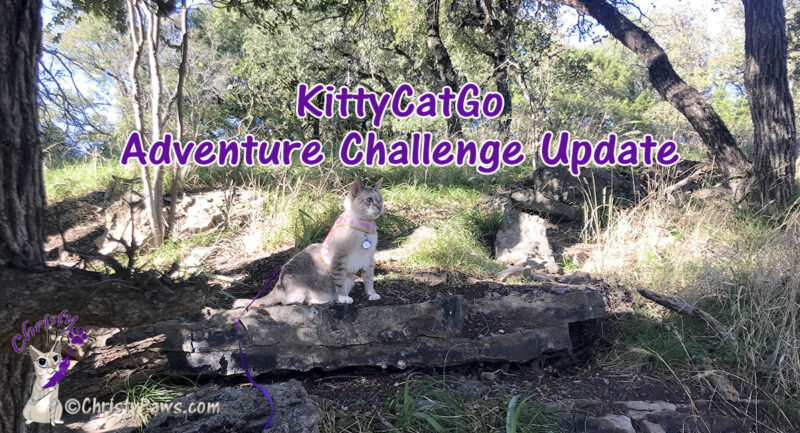 At the midway point, we really hadn't completed many of the tasks. We were traveling and mom was pretty busy with other things. Also, since we haven't had a lot of experience outdoors or on leashes, especially me, mom was taking it slow. She tried to make sure we were at quiet, safe places to do outdoor activities.
Some of Our Most Memorable Adventure Challenge Tasks
One of our early stops was Lost Maples Winery. This was a beautiful place and we had it all to ourselves after closing. Mom took advantage of the quiet to take us on some of our first stroller rides during the trip.
The first place I got quite a few things accomplished was at Abilene State Park. Mom was at a meetup event with other RVers and she took me to a couple of the gatherings. She was surprised at how well I handled being around so many people and dogs. Of course, I was in my stroller where I always feel pretty safe.
We had to take a hiking trail from the trailer to the gathering place. It was so beautiful! I was tempted to get out of my stroller but still too nervous to do that.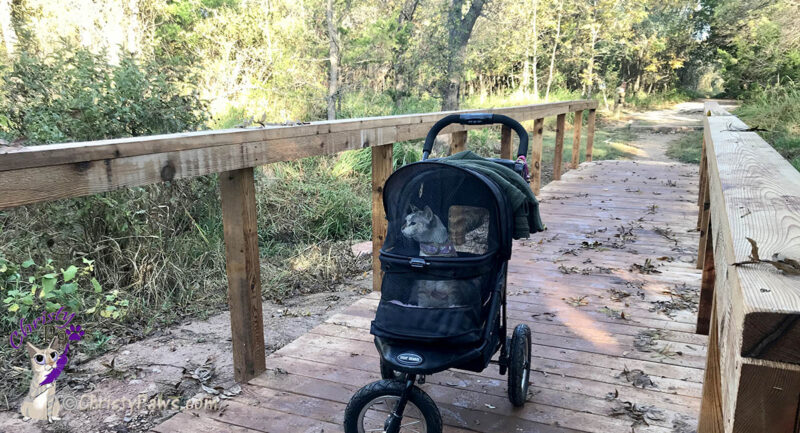 Ocean didn't get to meet someone new until almost the end of the challenge when we were at Pillar Bluff Vineyards. Here we both got to meet Gill Bledsoe, the owner and winemaker.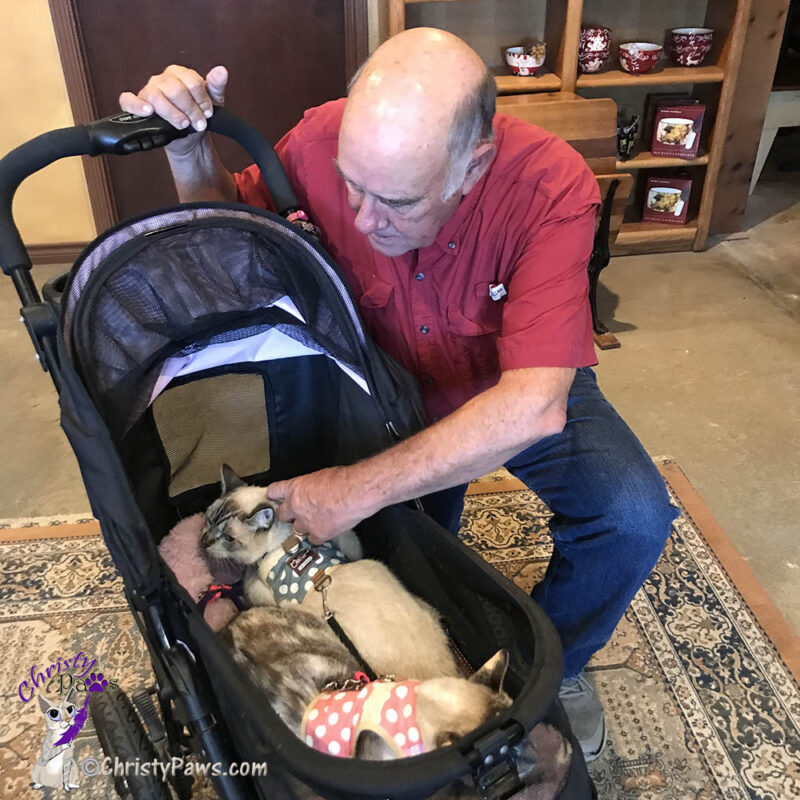 Ocean and I each completed 16 tasks but not all of them were the same because we weren't always out together. For instance, I got to sit around a campfire at the gathering. Ocean hunted bugs while he was on a walk but I'm not really interested in bugs while I'm on a walk. Now let a fly come inside and it's a different story!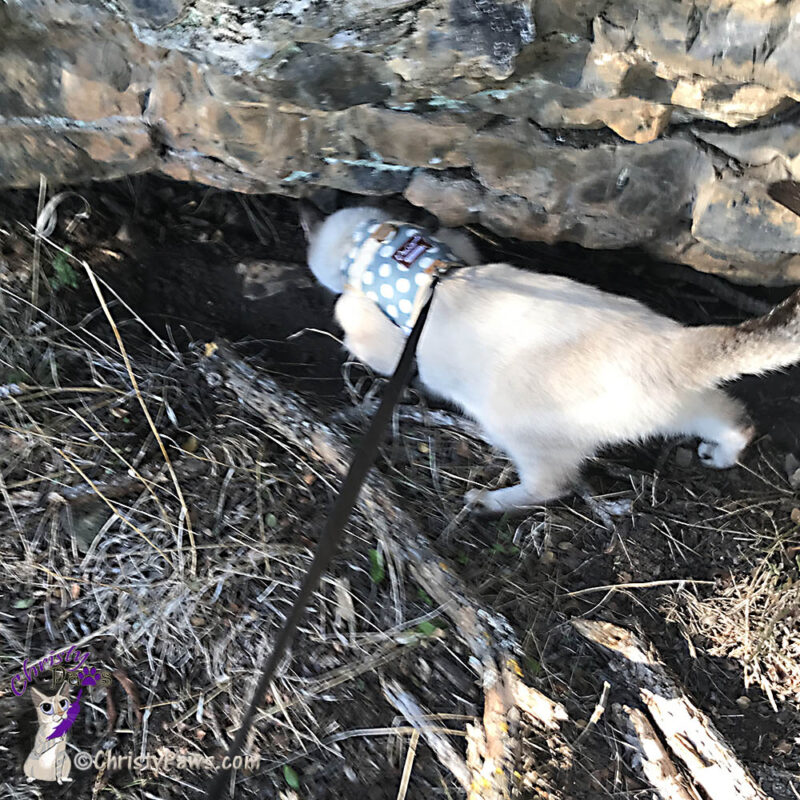 Even though we went on lots of car rides over hundreds of miles, mom never remembered to get a photo of me in the car.
I posed for lots of photos but Ocean was always too busy exploring or eating grass to stop and pose.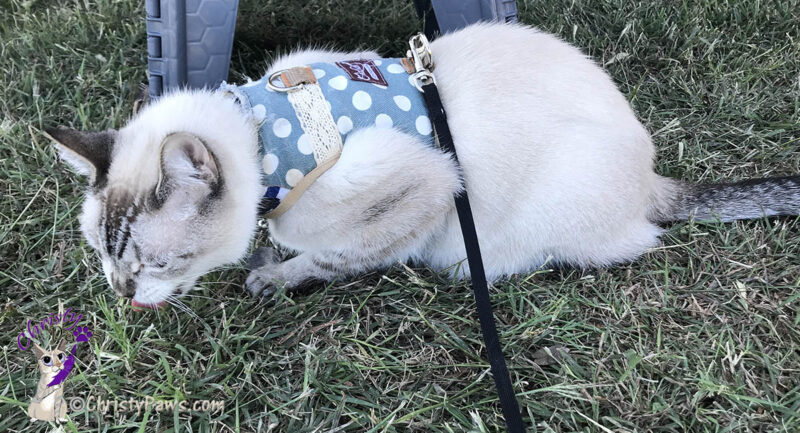 All three of us enjoyed hanging out and watching a few sunsets.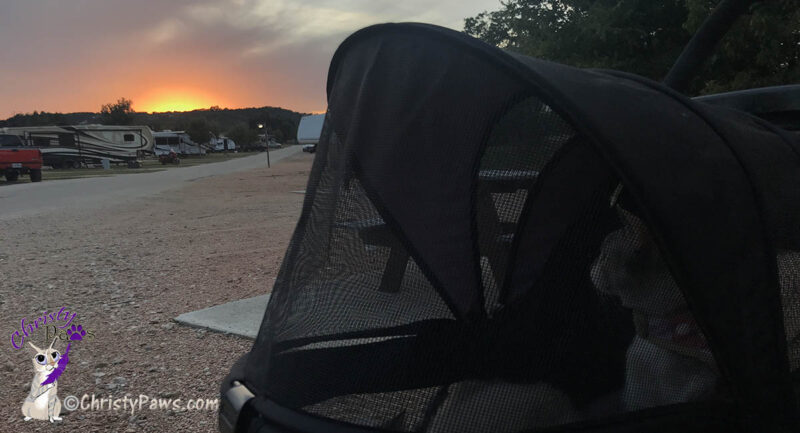 What We Accomplished
Even though we completed 16 tasks, we didn't complete enough in any one category to earn a title. But earning a title wasn't the goal according to mom. She wanted to get us out to see how we liked it. She said it was to "broaden our horizons." Oh, brother. I have to say, though, that October was not our usual sleepy month!
Here's our "score sheet" with the update of what we completed in the Adventure Challenge. The purple list, of course, is mine.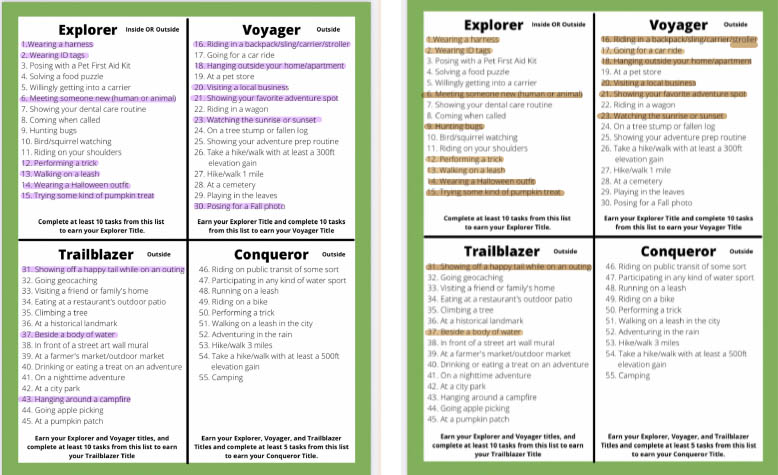 I think mom enjoyed this adventure challenge a little more than we did. All-in-all, though, I think Ocean and I started enjoying it some too. Mom tells us there will be another one in December. I'm sure she will sign us up for that one too. We'll be home then so it will be interesting to see what she finds for us to do locally.
Maybe you'll join us in the next challenge!
Kitty Kisses,
Christy Paws