I just read the silliest thing on Facebook. An article in the Birmingham Mail says that now Facebook is responsible for black cats not getting adopted. As if they didn't already have enough problems! The article goes on to say, "Black cats are said to photograph poorly for Facebook, Twitter, Youtube and the like, with more colourful felines pre-furred. Owners just don't like snapping selfies with them."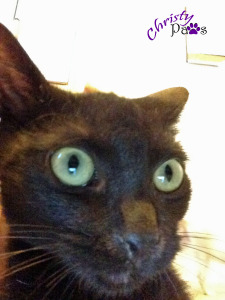 Really? I think this was just a publicity ploy for Cats Protection Birmingham (and I'm all for whatever it takes to get a kitty adopted) but mom took it as a challenge. Since we have little Beyonce, the foster kitten, here with us, mom decided she should learn at an early age how to take a selfie.
Well, let me tell you, Beyonce had other ideas! She was not the least bit interested in learning to use the camera and take a selfie. All she wanted to do was play with her mousies! She finally gave it two tries and said, "NO MORE! Give me that mousie!" I think if she had put a little more effort into it, she could have had a darn good one. I mean, look at those green eyes!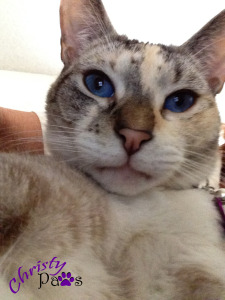 As you may have seen on my Facebook page, I have been practicing my selfies. I'm starting to get the hang of it. Here's one I took the other day. It's far from perfect so I'll keep working on it.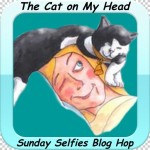 This is a blog hop. Click on the button to the left to enter or to meet some other great felines.
Christy Paws