So, it's Sunday again and time for selfies. Some Sundays I'm up for this but not today. I was peacefully napping in my favorite spot when along came mom. Mom kept sticking the phone in my face and I kept kicking it away. I took this one with my back paws doing just that!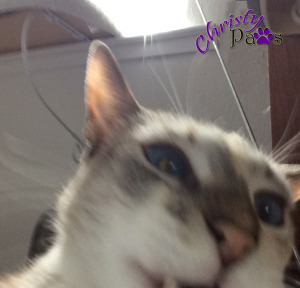 Since the moms wasn't going away, I reluctantly agreed to try. Literally 12 shots later, I finally gave her a shot she was happy with.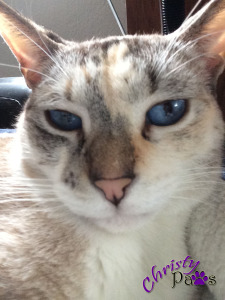 Since this is the last Sunday Selfie post before Christmas, mom thought it would be nice to let each of us do a selfie so we can all say Merry Christmas to you.
Echo was her next target, I mean subject. Maybe this should be Echo's blog because he loves to have his photo taken and seems to have a knack for selfies. This was his very first, and only, try. Mom said it was great and he didn't need to do anymore. Hmph…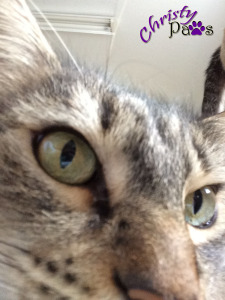 Next, it was Ocean's turn. Did I tell you that Ocean is the sassy one in the family? He's sassy even to mom. When she tried to give him the camera, he kept rolling around and swatting at it and her. Lucky for him he doesn't use his claws! After several attempts to get him to be still, look at the camera and push the button — oh yeah — she settled for this one he accidentally took when he tried to smell the camera.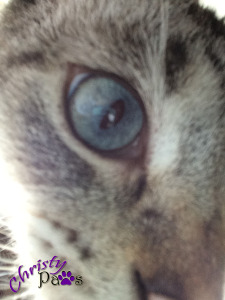 So, here we all are, wishing you a safe, happy and healthy Meowy Christmas!
Love you all!
Christy Paws, Echo and Ocean
This is a blog hop hosted by The Cat on My Head. Click on the link or badge to see more.