I want to tell you more about the wonderful organization that saved my life as well as the lives of my adopted brothers and sisters. This is what mom has told me about them.
With most people, rescuing sneaks up on you gradually. MeoowzResQ started with one woman, founder Dani Ryan, who agreed to help a co-worker out with some feral bottle babies. Then she took up volunteering at a local shelter and with another rescue group.
Soon, she and another friend, Judith, hooked up to save bottle babies from their local county shelter. It was Friday, April 20, 2001, Dani's birthday, when she was asked to come down to the shelter and pick up a litter of kittens. To her surprise, when she arrived, there were 21 babies that would be euthanized if she did not take them. What would she do? She took them. What else could she do? She and Judith saved each and every one of these 21 kittens, with not a one dying.
The following year, a few volunteers signed on to help them, with more volunteers joining each year. Now there are more than 125 fosters and volunteers that help MeoowzResQ save lives. As the number of fosters goes up so does the number of rescued kitties. Last year they found homes for more that 1,500 kitties, and this year it will be even more. They have saved more than 15,000 cats and kittens over the life of the organization.
The wonderful people who volunteer are so special. They provide love and safety for scared and sometimes sick and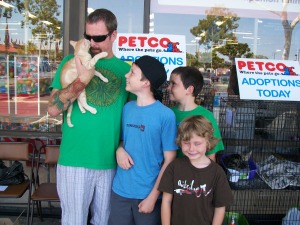 injured kitties. I know when I came to my foster home I felt safe for the first time since I could remember. Besides all this love, some of these volunteers donate many hours of their time to hold events on the weekends to find all these kitties their forever new homes. Others work behind the scenes doing fundraising, marketing and social media.
But, friends, as you can imagine, saving all these kitties takes a lot of money. MeoowzResQ depends solely on donations from caring people like you. I encourage you to visit their website and check them out. If you can make a cash donation or send them something from their Amazon wish list, I know they would be so grateful.
There are also ways you can help them without spending any extra money. These things can really add up with lots of people participating!
Amazon Smile
When you shop at Amazon, start at smile.amazon.com and choose MeoowzResQ as your charity. Amazon will donate .5% of the price of your eligible AmazonSmile purchases to us.
iGive
Shop through iGive.com's 1,482 stores and donate to MeoowzResQ at the same time! Remember to install the iGive button after you sign up so that no matter what participating site you go to, your purchases are automatically tracked and you don't have to shop through the iGive site!
Ralphs
If you shop at Ralphs, donations here can add up very quickly! Just go to the Ralphs website and link your Ralphs card to MeoowzResQ. Use your card when you shop and donations are automatically tracked. Click here for step-by-step instructions.
MeoowzResQ is located here in southern California (Orange County) where I live. If you have a local rescue or shelter, I hope you can volunteer or support it in some other way.
Christy Paws