Mom wants me to write a post about cat litter. Cat litter? Really? It seems to be important to her so I agreed.
This all came about because mom loves to garden. The condo we lived in had no room for a garden but mom still always had a few herbs on the kitchen counter. Occasionally, there was even some fresh catnip or grass for us.
Other places she lived before the condo all had small areas where she could have a garden and she did what she could there. She even tried to have a garden in the ghost town in the high desert in Nevada where she lived for five years. She had lots of space but no real soil. She composted and composted and composted until after about three years she had a decent little patch of dirt. Finally, that year she had some tomatoes and squash and beans growing. And then the locusts came. Thousands of them. They ate the garden right down to the ground, every bit of it. She said that was one of the worst experiences of her life. The grasshoppers even got in the house and mom hates bugs.
When we moved here to our new house, mom was so excited about the prospect of being able to garden again. We can't garden in our yard because, if you follow my blog, you know the deer can get in and they're almost as bad as the locusts. But mom's friend next-door always has a garden and she'll be helping with hers.
So what does all this have to do with litter? Well, I am getting to that.
Trash pick up here is very expensive. The alternative, is to take it to the sanitation station yourself. Mom started thinking about all the used cat litter and how heavy it is because we use clay litter. How would she load all that heavy stuff into the truck herself every month or so? How would she store it?
So she started thinking about lighter alternatives. A pet sitting client uses a corn litter that she likes and the cats all seem to like as well, so she decided to try that. It is so much lighter and fluffier. It clumps just as well, keeps the odor down, comes from a renewable source and most important of all, we like it.
One of the first things mom bought when we moved here is a composter. Mom likes to be green whenever possible so she started researching composting the corn-based litter — then she wouldn't have to take it to the dump at all so she'd be helping the environment even more.
She found out a few things she hadn't even considered before while doing her research. The important thing, she tells me, is what she found out about clay litter. Clay litter is strip-mined, non-renewable, and non-biodegradable. It sits in a landfill forever. That doesn't sound good for the environment at all!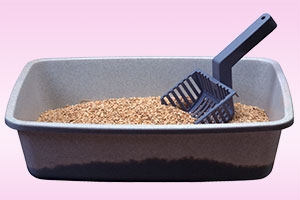 There are currently four types of biodegradable litter sold—pine pellets, recycled newspaper pellets and litter based on corn and wheat.  All of these litters are healthier for the earth, and for cats—they contain no silica dust, a component of clay-based litter that creates health problems when inhaled, no chemical additives, and, unlike clay litter, which can build up in a cat's digestive system, these natural litters are safe if ingested during grooming.*
All of these biodegradable litters can be composted but there is a bit of a glitch there, it seems. You see, we cats can carry a protozoan parasite called Toxoplasma gondii, which causes toxoplasmosis, a disease that can be fatal to infants (who acquire it congenitally from their mothers) and immune-system-deficient adults. This really only applies to kitties who go outdoors and consume prey, since that's how they get infected, but there are other pathogens as well that all carnivores can carry. So, it is recommended that litter be composted separately from your other compost and only be used on ornamental plants. Mom says it is a bit of a pain to have two separate composters but she is willing to do it to keep all that litter out of landfills.
Just the other day, my friend Dezi over at Deziz World posted a review and contest for SwheatScoop Natural Clumping Litter. Of course, I had to enter the contest for an opportunity to try out this wheat-based litter to see which I like better. What kind of litter do you use? Do your humans compost?
Christy Paws