The modifications to our cat tree continue. Yesterday, mom bought carpeting for the new shelf and a fancy electric staple gun to attach it. She tried the regular staple guns but decided her old, arthritic hands just aren't strong enough for them. The men helping her at the store said even their hands get tired with the regular ones if there are a lot of staples and she will need to do a lot. The carpet cost $3. The staple gun to put it on cost $30. Hmmm…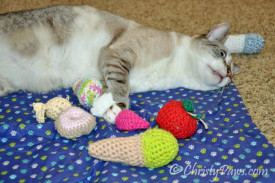 A while back, I told you about a pawsome prize I won from 15andmeowing. Some of you wondered if Echo ever got to play with the toys after Ocean put the bitey on him. Echo politely waited until Ocean and I were done then he had a blast with them. Ocean and I rolled around on the toys and mat soaking in the wonderful nip. We bit and kicked the toys then languished in the bliss. Echo, on the other hand, chased the toys one-by-one, all over the room. When he lost one under the furniture, he went back for another. I think some are still missing!
In that same post, I mentioned that mom never won anything but that I, apparently, am a lucky kitty. I have won a few other giveaways including my beautiful Lola collar and corsage from Lola the Rescued Cat and a Zazzle gift certificate from Summer.
I also recently won something from Midnight Calico Farm. Actually, this was a collaboration with mom. At the farm, they make jewelry from horse hoof trimmings. Sounds a little weird, I know, but mom, being a horsewoman, was fascinated by the idea. The trimmings are cleaned, cut, polished and set into jewelry. The "equi-gems" are given a name specific to the horse they come from and Cookie's didn't have a name yet so they had a contest. The gemstone name had to be based on her barn name of Cookie or her registered name of Ima Midnight Tuxedo. We came up with Tuxenite. We didn't win. We came in third place but the generous folks at Midnight Calico Farm decided to give a prize for the suggestions that made it to the top six. Here is the pendant made from Cookie's hoof trimmings which are now called Midnight Meteorite.
Mom was especially excited about this because she loves this twisted wire style of jewelry. She's even thought about trying her hand at it herself. I'm so glad we won this because mom's birthday is next week. This is a perfect gift for her from me!
And speaking of contests and giveaways — have you entered mine yet? There's less than two days left so do it now if you haven't already. Good luck!
[tweetthis url="http://wp.me/p4Ynns-JC"]Enter my giveaway of a fabulous #kitty toy assortment from Nip & Bones. #cattoys #giveaway[/tweetthis]
Wishing you a fabulous Friday and a wonderful weekend!
Christy Paws