Hi Friends! I know I haven't been around much but I sure think about you all and hope you are well and happy. I wanted to write and give you a little update on what has been happening with us. It also ended up being a little walk down memory lane through Instagram.
The weather here has been just awful with so much rain, hail, wind, and even a little snow. Mom says there has been a lot of flooding here in Northern California — thank catness we are not too close to it. And we will probably get lots more rain through the spring. At least this means our drought is pretty much over, but all this bad weather means mom hasn't taken me out in the car or even taken me for a walk in my stroller.
Echo, Ocean and I have spent a lot of our time trying to stay warm, because when it is cold out, mom just doesn't keep the heater high enough. Every once in a while we have wonderful sun puddles that even get so warm we eventually have to move away, but most of the time it is dark and dreary.
On those days, I think a lot about the feral kitties that live in our neighborhood and how lucky we are. I am so grateful for mom's fake fireplace heater first thing in the morning.
Soon after mom gets up, the big heater in the living room comes on and we all move in there to lounge in front of it.
Once the house is warmed up and the heater doesn't come on much anymore, we all move to a snugly bed – some are even heated. Yes, we are very lucky kitties. I wish all kitties had a safe, warm home with a loving mom.
The only real news from us kitties is that Echo is going on a road trip. If you follow me on Instagram, you may have seen that Echo had to go to the vet to have his teeth checked.
Turns out, he has some bad teeth that need to be pulled. The vets here are so much more expensive than my vet in Southern California that mom has decided to take him there like she did with me when we were on our road trip. She said she'd rather spend the extra money visiting some friends than giving it to the vet. They'll be heading down in a couple of weeks and I'll be stuck here with Ocean. He better not pick on me!
Since it's Sunday, I took some selfies for you. In fact, I decided that since we hadn't been around in such a long time, I'd let Echo and Ocean take selfies, too. Can you tell it is sunny today? Don't let it fool you. It's is supposed to snow tonight!
Love to all of you from the three of us!
Christy Paws, Ocean and Echo
I'm joining my friends at The Cat on My Head for the Sunday Selfies blog hop. Click on the link or badge to see more.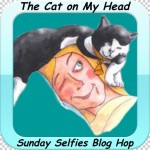 Save
Save